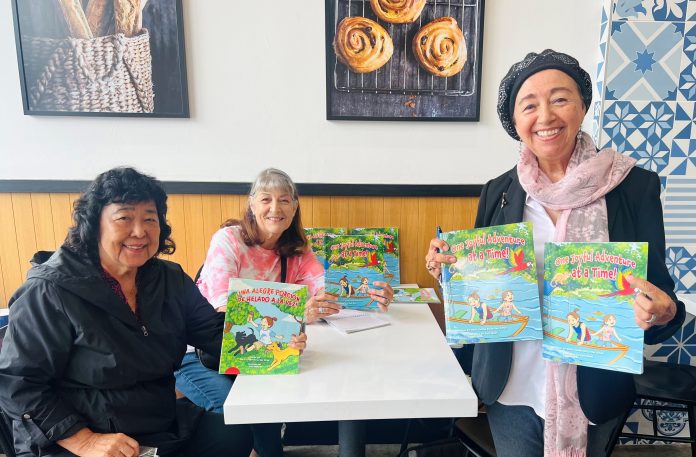 María Cecilia Borja-Van Zitter, known as "Ceci" by her family and friends, has been a member of the La Palma-Cerritos Branch of the American Association of University Women (AAUW) for about 33 years. She served as Hospitality Chair twice, most recently for the past five years.
She surprised everyone by publishing her first Children's book on Amazon in June of 2022, by the title of "One Joyful Scoop at a Time!" It was also published in Spanish as "¡Una Alegre Porción de Helado al Vez!" Her first book was about her grandson, Bowman, who had to miss out of activities because he needed to learn how to follow rules, before he could enjoy the ice cream he enjoyed, "one joyful scoop at a time." Ceci said that she wrote the book to fulfill one of her husband's last wishes, to "take care of Bowman." At that time, she said she wanted to write more books to help Bowman as he was growing up.
Ceci continues to write bilingual Children's books, not just for Bowman but for all children. As children read her books, she hopes that they might be inspired to appreciate the beauties of nature, express gratitude and joy for the blessings they receive in their everyday lives, and some day, develop their self-esteem as they discover their God given-worth. Her second book, was published on August 10, 2023, on Amazon, and was printed in both English and Spanish as, "One Joyful Adventure at a Time!" and "¡Una Alegre Adventura a la Vez!"
In her second book, Ceci shares her love of nature and the jungle of the Amazonía in Ecuador, with her granddaughter Sage. Sage was not happy because the jungle is full of bugs, birds and mud, and there was no TV. Worst of all, she would have to celebrate her birthday in this strange place, far away from her friends. This story acknowledges that children have difficulties with new experiences and encourages them to look for the positive. After a surprise party, Sage has "One joyful adventure at a time!"
Ceci held a book -signing of her second Children's Book, on Sunday, August 20, 2023, at Paris Baguette in Cerritos, at 17416 Carmenita Road. While having their books signed by Ceci, patrons of the bakery could enjoy coffee and a variety of pastries prepared by Paris Baguette for a fee. Retired teacher Nancy Spears of Cerritos read about Ceci's book signing and came prepared to purchase nine books for her eight grandchildren and one for a friend's grandchild! Ceci was delighted that Nancy came and purchased so many books!
Ceci will be reading her four new books for children in the Little Theater of the Cerritos Library, on September 29, 2023, at 3:30 p.m. Since September will be celebrating Hispanic Heritage Month, Ceci will be reading her books in English and in Spanish. She would love to see many children and their parents come to hear her stories. All four of Ceci's books were colorfully illustrated by Sara Nieto.
Maria Cecilia Borja Van Zitter, or "Ceci" as we now know her, is a retired teacher with a Bachelor of Arts Degree in Education from CSULA, and a Master of Arts Degree from Point Loma Nazarene University in San Diego. She lived in Quito, Ecuador, until 1966, when she relocated to Los Angeles. She became a United States citizen in 1986 and was a teacher in California public schools for 30 years before retiring from full-time teaching. She currently does substitute teaching in high schools and is becoming known as an author of Children's books.
Persons interested in contacting Ceci for book readings, school visits, or presentations, can connect with her on Facebook@AbuelitaCeciFanPage, and on Instagram @instagramborjavan. Persons interested in purchasing her second book can contact Aamazon.com at: https://tinyurl.com/OneJoyfulAdventureAtATimeUS.