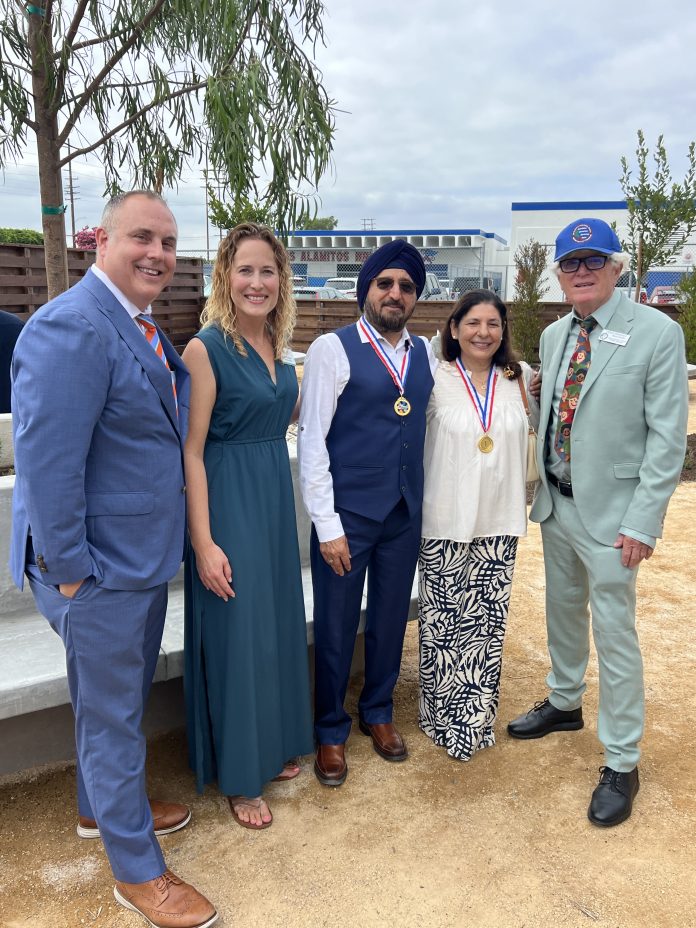 Although former Los Alamitos student Jusdeep Singh Sethi died in a tragic accident a decade ago, his spirit and likeness will live on forevermore as officials gathered at Los Alamitos High School to formally dedicate the "Oasis" this week.
The "Oasis," named by the students themselves, is a 1700-square-foot outdoor garden that now sits outside the school's mental health Well Space named the "Loft," where students and staff can always find safe harbor from chaos; a place where they can collect thoughts on difficult days.
With the fresh smell of newly minted dirt wafting through the air, top officials of the Los Al Unified School District, the Los Alamitos Education Foundation and LAHS gathered Tuesday to formally dedicate the $200,000 project.
In addition, Gurjit and Mohinder Sethi were on hand to speak about their son Jusdeep, who tragically downed during a family outing at Big Bear in 2013. The Sethi's thanked LAEF and the school district for allowing them to contribute $50,000 to the project in honor of their late son.
"On behalf of the Los Alamitos Board of Education, welcome to the ribbon-cutting ceremony for our new addition to the Well Space, the Oasis Garden," said board president Chris Forehan.
"A huge thank you to our school district, the Sethi family and the coordination with LAEF for making the garden a place where students and staff can find peace during their very hectic days," he said.
In 2021, Los Alamitos USD, in partnership with the Orange County Department of Education, CHOC, and LAEF, took pioneering steps in prioritizing student mental health and wellness by introducing the first two Well Spaces in Orange County at Oak and McAuliffe Middle Schools," said Pulver.
"These initiatives laid the foundation for the continued commitment to student well-being," he added.
He thanked LAEF Executive Director Carrie Logue for a donation of more than $250,000 for the "Loft," which opened last year at the high school, and for their work to help raise nearly $200,000 for the Oasis, which has now been dedicated.
"The Oasis" Garden was designed to serve as a tranquil, outdoor extension to the Well Space. Spanning approximately 1700 square feet, it features a serene water element, river rock, outdoor lighting, lush greenery, and comfortable outdoor furniture, all designed to encourage student gatherings and relaxation," said Pulver.
"The Oasis Garden is more than just a physical space. It is an outdoor haven where students can reflect, meditate, and simply take a break," he added.
"It's not lost on us that this garden is more than just a physical space. It really is an outdoor haven where students can reflect," the superintendent said.
"They can meditate and simply take a break. I've been coming to the campus the past two weeks as we've been prepared, getting ready for this and it's just been so neat to see students eight o'clock in the morning just sitting out here and they're not doing homework," said Pulver.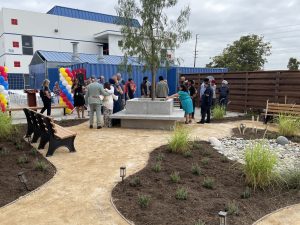 Logue thanked Pulver, her hardworking board and staff members, all of whom she said had worked so hard to make "The Loft" and the "Oasis Garden" a reality.
She also thanked the school district for their partnership.
"We enhance educational excellence and we're here to prepare every child in our district for college and beyond. And I wanted to thank Dr. Pulver, the school board and the administration for looking to us to do more and more to make our district stronger and healthier," said Logue.
Logue then thanked Gurjit and Mohinder Sethi for their generous donation of $50,000 so that the Oasis could be completed and dedicated in honor of their son, Jusdeep.
Logue said the Sethi family had made the donation for the Oasis in addition to the "thousands and thousands" of dollars they began donating for student scholarships shortly after Jusdeep's accident.
Mohinder Sethi spoke, sometimes emotionally, about her late son Jusdeep whom she said once told her while walking on mountains during one of their many trips. In 2013, when Jusdeep was a 20-year-old student at Cal State Northridge, he surprised her by telling her he got a job at the arboretum in Pasadena.
She said this revelation, along with others, made her aware of how deeply Jusdeep felt about being connected with the earth and and how he wanted to help others.
Watching her son carefully avoid the protruding mountain stones, Mrs. Sethi said she asked her son, "Why don't you put your shoes back on," she asked as they walked through the mountains. In his reply, she said her son said to her: "It's good to connect with the Earth, don't you think so?"
Jusdeep's mother said her family felt reassured that her son's memory will now be helping students every day. He "really, really loved nature and really wanted to help people," she said.
After his death, Mohinder Sethi said she visited her son's workplace and learned while talking with his coworkers just how deeply he touched every person he met.
A photo of Jusdeep will now reunite him with classmates and staff for the foreseeable future as students and staff find refuge in this tiny "Oasis" garden, as they relax on the comfortable wooden benches and stare out at earthy tones, a rock garden and even a water feature to bring peace to others during the days to come.