Los Al TV has announced it will televise three new shows covering the candidates and issues for the upcoming November Election
The three shows feature candidates for Los Alamitos City Council, a discussion of Measure Y which would approve a one and a half-cent sales tax increase in Los Alamitos, and a Rossmoor Homeowners Association Townhall/Candidates Night.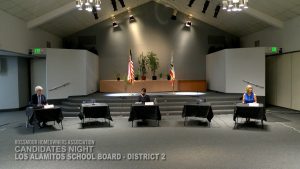 Los Alamitos will be electing councilmembers by district for the first time. This year they will be holding elections in three districts. All five candidates were invited. Three accepted and were interviewed by Larry Strawther.
The measure Y show features interviews with Mayor Richard Murphy, Mayor Pro Tem Mark Chirco, City manager Chet Simmons, and Police Chief Eric Nunez. Questions are asked by Larry Strawther and Event-News-Enterprise editor David N. Young.
The Rossmoor Homeowners Association Town Hall was recorded Tuesday, Sept. 29, and featured interviews with candidates from races affecting residents of Rossmoor. It includes candidates for Congress, state assembly, the Los Alamitos School District and the Rossmoor Community Services Board.
The shows will run twice a night over the next two weeks on Los Al TV3, losaltv.com and on Roku (Los Al TV), which is channel 3 in Los Alamitos and Rossmoor.