The 16th annual Los Alamitos Equine Sale wrapped up a solid weekend in the most difficult of years with 237 head selling for a total of $5,153,800 during the two-day event. The average sale price for the 204 yearlings sold was $21,474 to go along with 17 mares selling for an average of $22,994. The Equine Sale was held at its usual spot – on what used to the putting green and driving range area of the former Cypress Golf Course located off Katella Avenue on the entrance of Los Alamitos Race Course.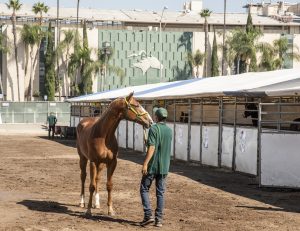 "We are very happy with how the sale went considering all the circumstances of this year," said Jo Rae Burns, a leading consignor of Quarter Horses from the Burns Ranch located in Menifee. "We feel very lucky to have had this sale and have to thank Ed Allred and the entire Los Alamitos Equine Sale staff fors everything that was done to get this accomplished. We really appreciate it."
"On behalf of the Pacific Coast Quarter Horse Racing Association, we are delighted that we were able to have a Quarter Horse sale in California," said Dino Perez, the business manager of PCQHRA. "Of course, we are so thankful to have had great support from our consignors and buyers. We saw a lot of new names involved in bidding and buying Quarter Horses so that's great to see and bodes well for the future."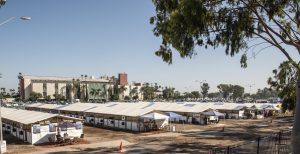 To house the horses, temporary stalls were set up on a portion of the Los Alamitos Race Course parking lot. A large tent was also set up on the lawn in front of the old Cypress Golf Course clubhouse for prospective buyers to view the horses and make bids of their equine of preference. The opening session of the sale was held on Saturday from 10 a.m. to 3:15 p.m. followed by the closing session on Sunday from 10 a.m. to 3 p.m.
Ed Allred, Quarter Horse racing's all-time leading owner and breeder, purchased Hip 298 Cleared To Fly for $110,000 from the Burns Ranch, Agent consignment to make her the high seller during Sunday's session. The highest selling colt on Sunday was Hip 227 Minecraft purchased for $85,000 by Diamond Racing.
The average prices were down from the 2019 average of $25,791 for horses sold and $26,688 for yearlings, but the average for mares was up 20.8% from the 2019 figure of $19,027 for mares and the average for mixed racing stock was up 103% from $11,714 in 2019 to $23,888 in 2020.
Allred was the leading buyer after purchasing six horses for a total of $287,000. Rachuan Suarez