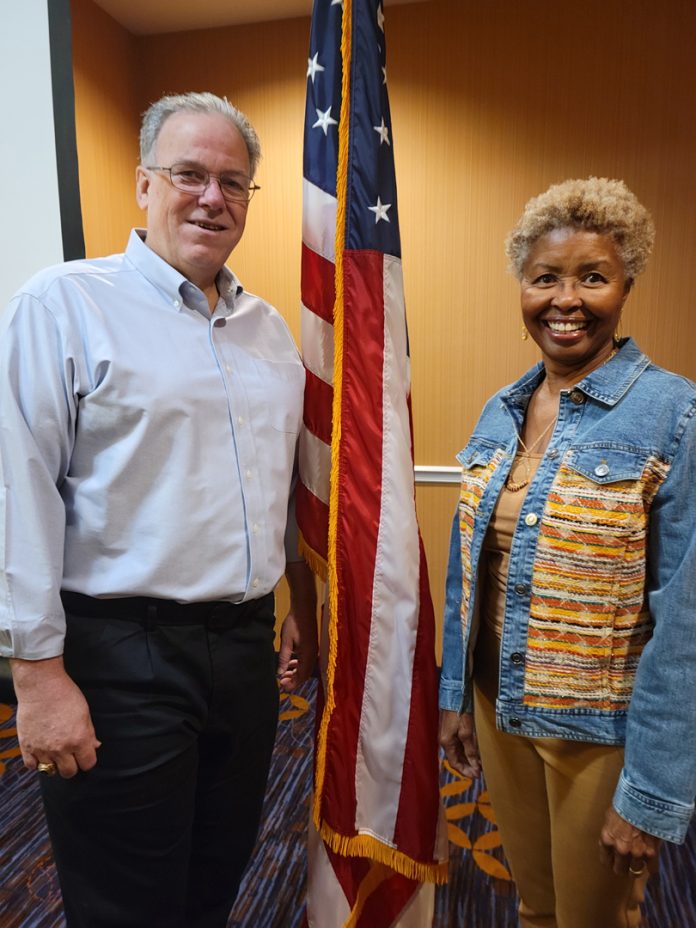 Art Remnet, a business consultant and coach for more than 25 years, working with multinational corporations and technology companies, to name a few, walked Chamber members and guests through the updated Chamber website during the recent Chamber Breakfast. The update is in progress, and members are encouraged to add a logo and 20 second video to their business profile. The site is scheduled to go live by the end of the month.
The website includes an events calendar, member testimonials, member of the month highlight, and local resources. Membership benefits and sponsorship opportunities will also be included. Remnet shared that community is important to our Chamber, and we want to express that with photos highlighting our involvement within the community.
The membership directory will be sorted by category for ease of finding business referrals. The Chamber goal is for the site to be a resource for members and the local community, and to provide more visibility for local businesses."What's for me in Twenty-Three?" asked Chamber Chair Nesi Stewart, owner of Printmasters Los Alamitos. Stewart asked attendees to ponder this question as she gave her presentation. Stewart said "my goal today is to get a commitment from everyone here to get the max you can from the Los Alamitos Chamber in 2023". That max looks a little different for everyone, and the Chamber board of directors would like to know what to consider in plans for the coming year.
Stewart talked about how she joined the chamber immediately after purchasing Printmasters 15-years-ago. She said that her purpose in joining the Chamber was to meet new people in the business community, because she realized that what she would get out of the Chamber is exactly the amount of energy and effort that she was willing to put into it. "I jumped right in, not waiting for people to ask me," Stewart explained. "The Chamber membership isn't about selling your business, but about developing relationships with Chamber members and within the community, and those relationships are the referral sources that will keep you 'top of mind' and help promote your business."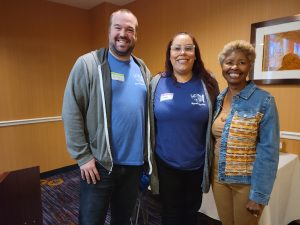 Stewart's 2023 goals include: more educational presentations (business learning and development); more promotional opportunities for businesses; business referral opportunities through member networking; more corporate sponsorships to help support programs that support smaller businesses; and increased membership participation. Our board of directors is working hard to add value to your Chamber membership.
Stewart explained that getting the maximum out of Chamber membership includes inviting a friend, reaching out to visitors and new members, and making people feel comfortable at Chamber functions – this will help to make us a stronger Chamber.
Watersafe Swim School was acknowledged as the Chamber's November Member of the Month. Meryl Cohn, COO and Briton Atkins, Pool Manager, were in attendance. Meryl talked about Watersafe's commitment to make water a safe place for all their students. She also expressed gratitude for the opportunity to be involved with the Chamber, and the support they have received. Watersafe Swim School is recognized for its commitment to the Los Alamitos Area Chamber of Commerce.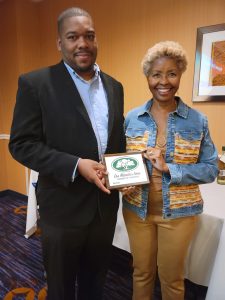 Dues for the Chamber will increase as of January 2023 by approximately $50 per category; however, renewing now (maybe a few months early), before the end of the year, members and new members are able to renew at the current rate.
Small Business Saturday is the Saturday following Black Friday, and the City of Los Alamitos, along with Chamber members will be encouraging shopping local, and promoting local business discounts and special offers. Local shoppers will receive raffle tickets for an opportunity to win prizes donated by local businesses and the city.
Veterans Day is coming up Friday, Nov. 11th; "Thanks a Veteran because their sacrifices are the reason for our safety and freedom today," said Stewart.
Los Al Chamber of Commerce's November Breakfast was held at Cypress' Courtyard by Marriott Hotel, 5865 Katella Ave. The award-winning Los Alamitos High Show Choir will perform at the December 9th Chamber Holiday Breakfast at Rush Park in Rossmoor. Treat your staff or a customer to this annual holiday event!