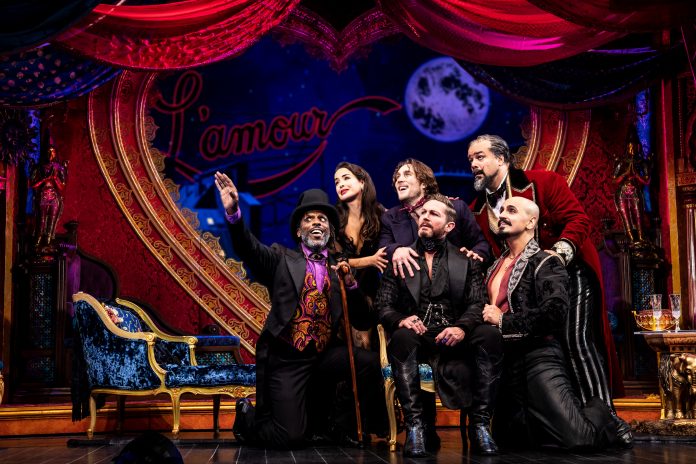 When the fantastical "Moulin Rouge! The Musical" hits the stage at Segerstrom on Nov. 9, it will be an Orange County homecoming for cast member Tyler John Logan.
The Tony Award-winning musical combines the eccentricities of Paris with a series of "American jukebox" hits to produce an on-stage extravaganza the New York Times called "spectacular" and "euphoric." Reviews have been stratospheric according to those released by the production.
"Spectacular! Euphoric! In Moulin Rouge! The Musical, life is beautiful," raves The New York Times. "Moulin Rouge! The Musical is a fabulous new musical. The high begins the instant you walk into the theatre," said the New York Post. Entertainment Weekly concludes that "it's easy to believe that Moulin Rouge! The Musical could run for 50 years."
Actually, Moulin Rouge! The Musical is the winner of ten 2021 Tony Awards including Best Musical, two Drama League Awards including Outstanding Production of a Musical, five Drama Desk Awards, and ten Outer Critics Circle Award Honor citations including New Broadway Musical.
"Before you know it, by the time you're halfway through, you're so pulled in that you cannot wait to see what happens next and you're just so wildly entertained, exclaims cast member Logan, a native of Lake Forest who attended the OC School of the Arts in Costa Mesa.
Logan, who moved to New York after high school to pursue a career, said he remembers the day more than two years ago when he was notified that he'd won the role in "Moulin Rouge! The Musical."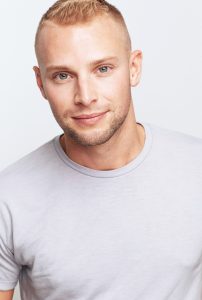 The musical takes ticket holders into a world of splendor and romance, of eye-popping excess, of glitz, grandeur and glory! A world where Bohemians and aristocrats rub elbows and revel in electrifying enchantment. Pop the champagne and prepare for the spectacular.
Baz Luhrmann's iconic film comes to life onstage, remixed in a new musical mash-up extravaganza. Moulin Rouge! The Musical is a theatrical celebration of Truth, Beauty, Freedom, and – above all – Love. Moulin Rouge! The Musical is more than a musical; it is a state of mind, according to the show's promoters.
As in the film, Moulin Rouge! The Musical celebrates over 160 years of music – from Offenbach to Lady Gaga. The stage musical features many of the iconic songs from the movie and also includes recent hits released since the movie premiered 20 years ago.
"I was on tour with CATS when I auditioned, then I got the call that I'd won a spot in the cast," said Logan in an interview this week. "I was so excited but then COVID-19 hit," said Logan.
"I had to wait for my industry to come back but here I am," he said.
Moulin Rouge! The Musical is directed by Tony Award-winning Director Alex Timbers.
"I'm thrilled and honored to welcome an extraordinary and vibrant group of actors to Moulin Rouge! The Musical as we begin our rehearsal process this week. After years of anticipation, we are all so excited to finally be taking this show on the road to audiences throughout North America," he said in a statement.
For Logan, jumping onto the stage at Segerstrom is a full-circle moment.
"It's a really awesome full circle moment because … the first high-end, you know, Broadway-caliber show I ever saw was at Segerstrom," said Logan.
"My aunt and uncle took me to see the Lion King when I was about 10 years old. That was like the first time I saw, you know, a big flashy Broadway musical, and that I'd say it was probably like the big spark for me," said Logan.
Logan then was fortunate to get into the musical theater program at OC School for the Arts in Costa Mesa, "and there I found my niche, singing, dancing, acting, and more. I knew this is what I really wanted to do."
After convincing his parents to let him move to New York, he landed a couple of parts on the regional theater circuit and then had a good run in a series of "West Side Story" performances.
Logan says he is the first in his family to enjoy a career under the lights. "We joke about it all the time because I am the only one in my family to ever do something like this. I'm not sure where it came from but I'm really happy and grateful that somehow I got it."
In Moulin Rouge! The Musical, Logan plays several parts in the ensemble and occasionally subs for one of the leading roles.
The cast is led by previously announced Courtney Reed as Satine and Conor Ryan as Christian, as well as Austin Durant as Harold Zidler, André Ward as Toulouse-Lautrec, David Harris as The Duke of Monroth, Gabe Martínez as Santiago and Libby Lloyd as Nini. Yvette Gonzalez-Nacer is the Satine Alternate.
Moulin Rouge! The Musical is produced by Carmen Pavlovic and Gerry Ryan OAM for Global
Creatures and Bill Damaschke. General management is by Foresight Theatrical.
On stage nightly, the cast recreates the strictly Parisian hysteria of the Moulin Rouge.
The Moulin Rouge of Paris, managed by Jean-Jacques Clerico (CEO), is a dazzling and spectacular universe, the symbol of the Parisian way of celebrating since 1889. Starting life as a popular cabaret and dance hall, the venue became an iconic music hall in the Roaring Twenties and then a theatre where numerous famous French and international artists stepped out into the limelight.
Today, the Moulin Rouge and its 60 artists present the Féerie revue show: two hours of amazement between cabaret and music hall styles where dance scenes and surprise acts intersperse – without forgetting the Moulin Rouge's most emblematic dance, the French Cancan!
See Tyler Logan and the entire cast in Moulin Rouge! The Musical from Nov. 9-27 on Tuesday, Wednesday, Thursday and Friday Evenings at 7:30 p.m, Sat. at 2:00 p.m. and 7:30 p.m. and Sunday performances at 1:00 p.m. and 6:30 p.m.
Tickets are available online at SCFTA.org, at the Box Office at 600 Town Center Drive in Costa Mesa, or by calling (714) 556-2787; for inquiries about group ticket discounts for 10 or more, call the Group Services offices at (714) 755-0236.