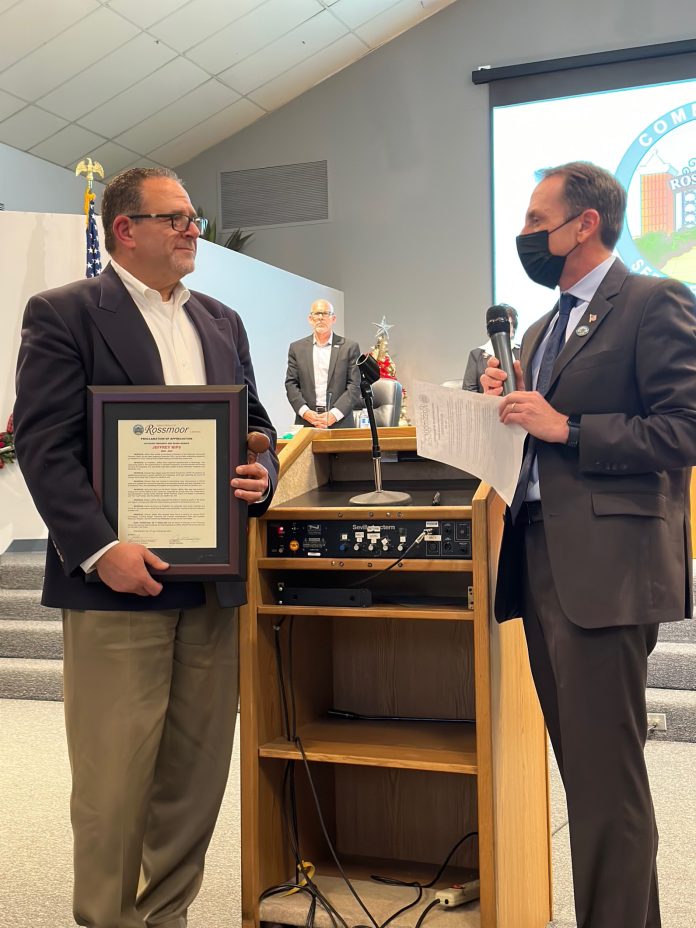 In the community of Rossmoor, incumbent President Jeffrey Rips of the Community Service District's Board of Directors gracefully took a bow at the Community Service District's December meeting, having been edged out of office by a mere 34 votes in the Nov. 8 election
Nevertheless, at the board's Dec. meeting, Rips was presented a proclamation honoring his service after former Board member Michael Maynard and first-time board member Jo Shade were administered their oaths of office and took their seats on the dais.
Rips was elected in 2020 and was the Board's President until the December meeting. Though the district remains unincorporated, its civic affairs are largely governed by the five-member Board of Directors elected among qualified community members.
Second vice President Nathan Searles presented Rips with a proclamation honoring the service Rips had rendered during his two-year term. While terms of Board members are generally four years, Rips was elected in 2020 in a special election to fill the unexpired term of Bill Kahlert.
It was Rips second trip to the dais, having been earlier elected and resigning in 2013 to accept the position of Executive Director of the Albert Jewish Community Center in Long Beach.
Searles, in reading the proclamation, honored Rips for his "outstanding service" to the district, supporting "advancements in technology, new accounting systems, the implementation of cashless transactions and administrative efficiencies, including the integration of a new reservation system to serve Rossmoor residents more effectively."
Also, Searles said Rips "helped guide the district through COVID-19 pandemic by establishing protocols to protect residents and employees, while also supporting the county of Orange senior meal GAP program for residents."
"And whereas, as director, Jeffrey Rips was involved in coordinating many improvements to district parks and facilities that included the upgrade of the horseshoe amenity and sand volleyball court at Rossmoor Park and centralizing the irrigation system at all district facilities."
"He was instrumental in bringing the farmers market to the community supported the annual Arbor Day celebrations and participate in annual family festivals, winter festivals, family fun nights in partnership with the Youth Center and the addition of a health fair," said Searles.
Finally, Rips supported the district in resolving quality of life issues with regard to changing the district's street sweeping schedule for enhanced service and whereas during his tenure as president, he conducted many meetings and public forums for the community to share their thoughts about pickleball, including a testing and evaluation process.
"The board would like to present to you this gavel. We do sincerely appreciate your service. Personally, I appreciate the joy, accomplishment, and satisfaction that you had in seeing what a great community we live in and how instrumental you were to that," said Searles in presenting Rips with an honorary gavel.
The board also presented a bouquet of flowers to his wife, Lauren, "because all of us on this board know that we do not serve alone."
"I just want to say thank you to all of the board members," said Rips. "I really appreciated working with you and learning from you and your guidance and patience for when I made mistakes. I really appreciate it and anytime that people step forward and say I'm going to serve the community, I think it's an amazing honor," he added.
Rips also congratulated the winners on Nov. 8.
"Michael (Maynard) welcome back and Jo, congratulations to both of you and I look forward to seeing Rossmoor continue to flourish with all of you here leading the way, so thanks for saying yes," said Rips.
Rips also thanked General Manager Joe Mendoza and legal counsel Tarquin and said he was happy to see a large crowd gathered for the meeting.
"Thank you everybody for coming out and supporting the community and everything that you do," said Rips. "Rossmoor is an amazing, amazing place to live. And it's because of all of our resident residents that make that happen. So thank you."