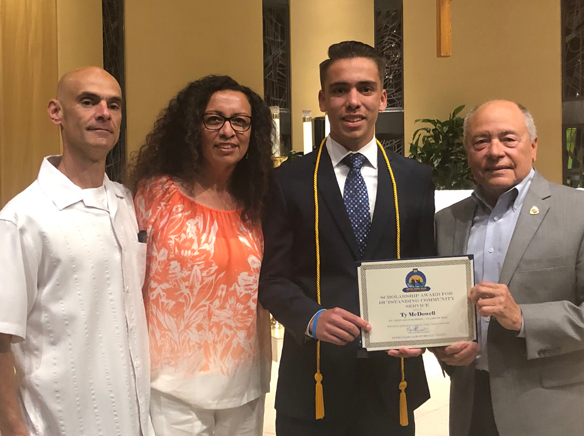 St. Irenaeus 8th Grade graduate Ty McDowell has been awarded a Notre Dame Club of Orange County (NDCOC) Scholarship Award for Outstanding Community Service.
In making the June 5 presentation, NDCOC board member Irv Cuevas said McDowell was honored for exemplifying what it means to "give back" by volunteering and participating in a host of community service programs while at St. Irenaeus.
McDowell was awarded for being an active altar-server at St. Irenaeus Parish; volunteering at evangelization retreats; the parish's Bible study program; participation in St. I's Salo Salo Filipino cultural event; organizing the school basketball team's visit to Precious Life Shelter; and for being an excellent role model for classmates.
McDowell also earned a number of other class honors including the President's Award with a 3.5+ GPA and Boys Athlete of the Year. Ty will attend Servite High School in Anaheim in the Fall with Honors of Entrance in the Math and Science Pathway.
The $250.00 Scholarship Award recognizes graduating 8th graders at each of the participating Orange County Catholic Diocesan K-through-8 schools. In addition, NDCOC provides each school with plaques on which to list each year's recipient and photo. Ty is the son of Matt and Susan McDowell.