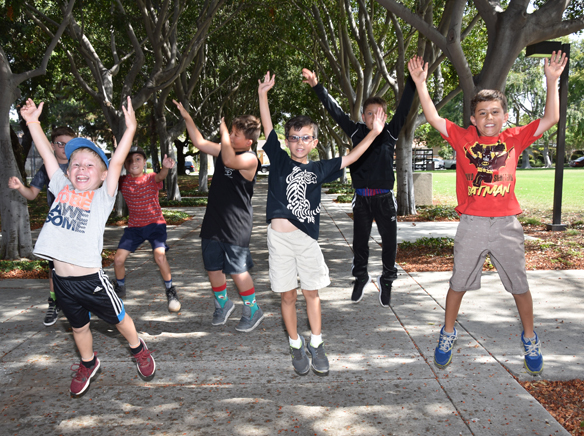 With a grant from Run Seal Beach and the support of the Rossmoor Community Services District (RCSD), kids kept active, beat the summertime heat and were able to attend The Youth Center's Camp S.H.A.R.K. in Rossmoor Park on full or partial scholarships.
"Their funding allowed us to send kids to camp, and for us to purchase much needed supplies," said Youth Center Executive Director Lina Lumme. "With the heat waves this summer, we were able to offer a cool camp experience for the kids."
A canopy, shades, misters, slip 'n slide and water balloons were purchased to help camper's keep cool especially on weekly Water Day Fridays. Additional low cost sports classes were offered, with soccer balls, volleyballs, basketballs, tennis supplies and other outdoor games provided at the electronic-free camp thanks to the RSB grant. Not a single scholarship to go to camp was denied, thanks to the support from the local community and generous partnerships from RSB and the RCSD, according to Lumme.
Camp S.H.A.R.K. offered a wide array of activities to kids ages 5 to 12 including scientific hands on experiments such as making slime and volcanos, creating shark art and other crafts, new walking field trips to places like In-N-Out, Chipotle and Starbucks, as well as field trips to places like Soak City at Knott's Berry Farm, Rock'n Jump Trampoline Park and the Aquarium of the Pacific, to name a few.
"Thanks to our 27th year partnership with the RSCD, we were able to offer a low cost camp with high-quality programming," said Youth Center Summer Camp Director Jay Martz. "Many of our volunteers and campers walked to camp daily and it reduced traffic in the area, keeping them active at the same time."
"We can't thank Run Seal Beach and the RCSD enough for helping us to offer more than 300 children the best summer they've ever had," Martz said. "Because of them, children had an incredible summer they will cherish forever."
Camp S.H.A.R.K. officially ends on Aug. 7. Enrollment is open for The Youth Center's After School Program and RASCALS, which begins on Aug. 8. For more information, visit online at theyouthcenter.org.