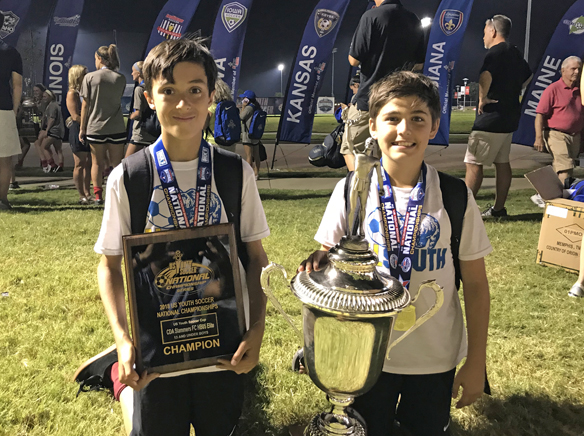 Reed Flores and Devin Torbati, McAuliffe middle school 8th graders, were crowned National Champions of Boys U13 U.S. Youth Soccer. Earning the title of best in the United States this past Saturday evening in Frisco, TX.
The match was streamed live via YouTube TV complete with commentary. Reed and Devin's CDA Slammers team's road to Frisco (#RoadtoTX) consisted of winning flight I in Southern CA in May, then winning the Western U.S. in Waikiki, HI this past June. The youth soccer teams competing in Frisco, TX consisted of the Eastern, Central, South and West U.S. champions.
After a week of soccer matches and training in 103 plus degree heat, Reed and Devin's team squared off against Kansas Soccer Nation's Academy team (Central Champs) in the championship match. In the 8th minute Soccer Nation went up 1-0 after the Slammers striker tried to clear the ball out of the backfield, but misdirected it causing an own goal.
The Slammers battled back in the 14th minute by placing a beautiful header off a crossed pass into the back of the net for the 1-1 equalizer. In the 25th minute the Slammers striker placed a teammate's pass off the volley into the back of the net for what proved to be the game winning goal.