Mardi Gras returns to Shoreline Village in Long Beach on Saturday, Feb. 25, and the whole city is invited to attend the celebration free of charge. Shoreline Village will be alive from 1-5 p.m. with music, beads, entertainment, and nonstop dancing. The family friendly event is suitable for children of all ages.
Joining this year as the Mardi Gras King is Mayor Rex Richardson, and Andrea Sulsona, Executive Director for YMCA Early Childhood Education is the Queen. Masks and beads will be sold, with all proceeds going to the YMCA Early Childhood program.
"I'm happy to lead this year's Mardi Gras parade to show my support for early childhood education," said Mayor Richardson. "Giving all children a great start in Long Beach is one way to ensure a brighter future for the whole city."
"It's an honor to receive support for our YMCA early childhood education programs, because if we lay a strong foundation when it matters most, children will have much better odds later in life," said Sulsona. "Our comprehensive, family-strengthening preschool programs, which include family bonding, positive parenting skill-building, and parental involvement opportunities, offer hope for many of the problems that exist in our community and in the world."
According to Sulsona, the YMCA will use the funds to provide all of the children in their program with life-saving swim lessons as well as the opportunity to attend a weekend of nature at YMCA Camp Oakes family camp.
The Louisiana Zydeco music starts at 1 p.m., so wear your best carnival costume and celebrate Fat Tuesday on the last Saturday of February. Music will be provided by Zydeco Mudbugs from 1-5 p.m., and Crawdaddio from 5-9 p.m., and DJ music by DJ Del and DJ Gerson. Beads will be thrown throughout the event, and watch out for stilt walkers who might grab those beads out of your reach. Facepainting and balloon twists are free for children until 4 p.m. More fun traditions of New Orleans include Tarot Card Readings available to anyone curious about their future and of course, the parade.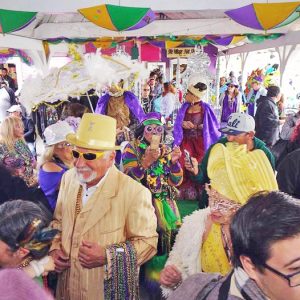 Though it's not a bayou, the perimeter of Rainbow Harbor will serve nicely as the Mardi Gras parade route. Plan to be there to watch the parade starting at 2:30 at the Nautilus Shell, and ending at Shoreline Village's Off Boardwalk Stage, where the celebration continues. If you choose to march along in the parade, please sign-up at https://shorelinevillage.com/long-beach-mardi-gras-registration/ (no sign-up necessary to observe).
RSVP not required. Visit the Facebook event page for updates: https://www.facebook.com/events/686626299791501. All the fun is located at 401-435 Shoreline Drive, Long Beach, CA 90802. The Shoreline Village parking lot fills up fast, so please consider ride shares, the free Passport Bus, the Circuit shuttle and other parking options. For alternate parking, visit https://www.parkLB.com.
Shoreline Village, a premiere property of Pacific Ocean Management, offers year-round waterfront shopping and dining on Long Beach's Rainbow Harbor. For more information about the center and its activities, visit www.ShorelineVillage.com.