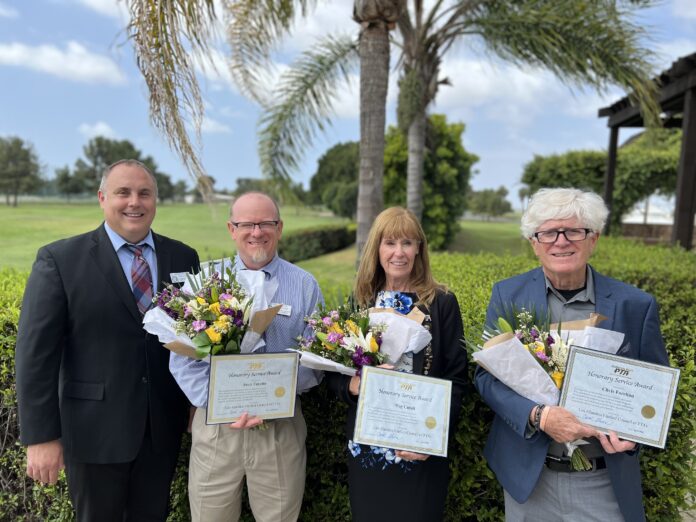 Los Alamitos USD Board of Education and Others Honored at PTA Awards Ceremony
All five members of the Los Alamitos Unified School Board of Education, retiring Oak Middle School Principal Erin Kominsky, and four Los Alamitos High School seniors were among honorees at a recent awards breakfast.
On April 11, the Los Alamitos Unified School District Council PTA held its Honorary Service Awards Breakfast for the first time since 2019. In-person events were not held in 2020 or 2021 because of the ongoing Covid-19 pandemic.
The event at On the Greens at the Navy Golf Course in Cypress brought together PTA volunteers, staff and administrators from the district's nine campuses to honor recipients of awards from the past few years. Among those recognized for various awards were PTA volunteers, community members, staff, teachers, local businesses and nonprofit organizations.
A program listed the names of recipients from 2019-2022 and the following awards were announced at the breakfast.
Retiring Principal Receives Top Honor 
Oak Middle School principal Erin Kominsky earned the Golden Oak Service Award, described as the "most prestigious" of the Honorary Service Awards bestowed by PTA.
"The love and joy she has poured into her job is so clearly evident and has had such a positive impact on all of us," PTA Council President Jennifer Steece told attendees.
In a letter sent to Oak Families on March 23, Kominsky announced that after 38 years in education, 27 of them in Los Alamitos USD, she would retire on June 30 to spend more time with her family.
At Monday's breakfast, Kominsky pointed to former Los Alamitos High School principal Gregg Stone who was in the room as inspiration, calling him her "idol."
"I hope that I can come back and do it like you after I retire because I just can't imagine my life without this work," she said.
Kominsky was previously the principal at Weaver Elementary and was named a National Distinguished Principal of the Year in 2012.
Also receiving the Golden Oak Service Award was longtime PTA parent volunteer Kara Cruz.
Board of Education Recognized for Pandemic Response
Citing their work during the last two years of "unprecedented and extremely challenging times," the five trustees of the Board of Education were given Honorary Service Awards. The award is for "outstanding service to children and youth in your community, going above and beyond what is asked of them."
Vice President Chris Forehan, Megan Cutuli and Scott Fayette were there to accept the honor. Board President Diana Hill and Marlys Davidson were not able to attend.
"The Los Alamitos School District has led the way in Orange County and in the state in keeping children, teachers and staff members safe while giving families quality educational options. It has taken a very dedicated group of leaders to guide us through all of the changes we have endured. In addition to dealing with the effects of the pandemic, our district has also been at the forefront of education on diversity, equity and inclusion," PTA Council Parliamentarian Janet Murphy said.
"Well, I'm shocked," Forehan said when accepting the honor saying he appreciated the recognition for his work since being elected in 2020. "I tell everybody, I find an ounce of happiness every day…because boy, it's been tough."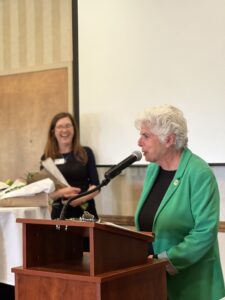 School board meetings have become heated over the past two years. Public comments reflect a community divided over the district following state-mandated Covid-19 safety protocols as well as the board's adoption of social justice standards and an ethnic studies elective at the high school. At least two meetings were moved online over safety concerns.
While some parents praise the district, parents in a vocal opposition group regularly lob personal attacks at administrators and board members at meetings. Tensions reached a boiling last November after then-board president Davidson was heard cursing under her breath at a critical parent during public comment. Davidson publicly apologized.
All three board members at the breakfast were targeted in a failed recall effort last year. A nascent second recall effort is targeting Fayette.
"It has been very challenging," Cutuli said after thanking everyone for the honor. Cutuli stressed that there is a lot of joy in the job she said was about delivering "the best education for every single one of our kids."
She said the board does get emails "saying thanks for what you're doing, you're doing a good job, not everyone is mad at you…"
Fayette also expressed gratitude when accepting the award. "Thank you so much for all that you do and know that you're greatly and deeply appreciated by myself and everyone at the district," he told attendees.
The Youth Center Executive Director/CEO Lina Lumme also received an Honorary Service Award for her many years supporting children in the community.
"Our school district is amazing," Lumme told the audience. "It's really easy to raise our kids in this community and just thrive so thank you so much."
Students Receive Scholarships 
Four Los Alamitos High School seniors received $500 PTA Council Scholarships including: Summer Drake, Luke Goldade, Katelyn Loh and Savannah Smith.
Savannah and Luke were at the breakfast and both thanked the PTA Council for the scholarship. Savannah said she would use it toward expenses when she attends UC Berkeley next year as a student in the College of Chemistry.
Luke is deciding between UC Berkeley, UC Irvine and Cal Poly San Luis Obispo for where to pursue a mechanical engineering major.
The breakfast concluded with a lively two-song performance by the award-winning Los Alamitos High School show choir Soundtrax.
For more local education news, subscribe to the weekly Spotlights Schools email newsletter at SpotlightSchools.com.