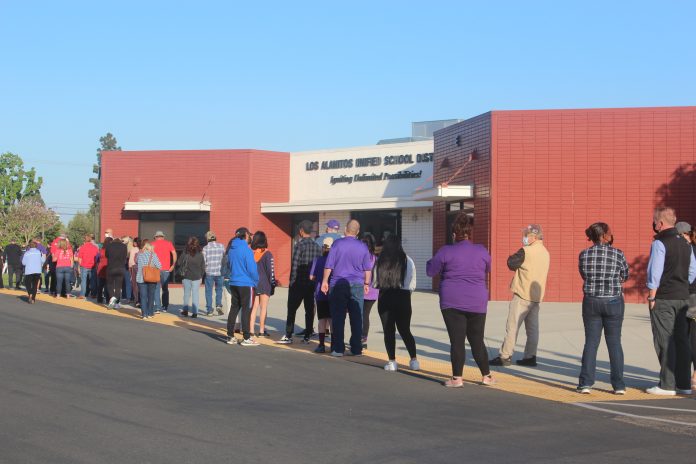 By David N. Young & Jeannette Andruss
In a rare, early morning vote, the Los Alamitos Unified School District Board of Education voted unanimously to adopt a social justice framework as a resource for teachers attempting to grapple with the needs of an increasingly diverse student population.
The move came after a marathon meeting in which more than 100 public comments were read into the public record and followed a live protest outside the empty meeting room because the session had been switched to virtual over security concerns.
Opponents of the social justice standards gathered near the entrance of the LAUSD complex in Los Alamitos about 4 p.m. Tuesday to actively protest both the decision to go virtual and the board's pending vote on the social justice framework.
The virtual board meeting, which began at 6:30 p.m., lasted until after 1:00 a.m. Wednesday, with the board voting 5-0 to adopt the social justice framework. The vote came, however, only after Deputy Supt. Ondrea Reed acknowledged that the "resource of the standard has been amended."
"We did remove the front and back pages," of the published standards, said Reed, "as there was a bit of misinformation about some of the additional resources and content on learningforjustice.org and teaching for tolerance."
"They (removed resources) are not being proposed for action," she said.
According to Reed, the social justice standard voted on by the board "only includes the anchor standards and learning outcomes for students K-12."
The Sun will present details from both sides of the late-breaking developments next week.
The switch from in-person to a virtual meeting apparently resulted from safety and capacity concerns that surfaced during the board's April 27 meeting measured against fallout from a national news report last Friday regarding the pending LAUSD vote on social justice standards.
"Due to public health and safety recommendations from law enforcement agencies, and capacity limits due to COVID-19, the May 11, 2021, Board of Education Meeting will be conducted virtually as permitted by Executive Order N-29-20," said a statement from District Supt. Dr. Andrew Pulver in announcing the last-minute change.
Therefore, during the virtual meeting Tuesday, each of the board members, and the superintendent, took turns reading aloud the approximately 120 submitted comments during the six-hour meeting as the meeting was conducted virtually.
Los Alamitos Police Chief Eric R. Nuñez said earlier in the week that he was informed by the Orange County Intelligence Assessment Center, which includes federal and state partners, that "social media chatter" indicated "special interest groups" from both sides of the political spectrum had expressed interest in attending Tuesday's meeting.
"They planned to converge on the same venue [the Los Al Unified School District office] within our jurisdiction," said Nuñez, "so I expressed my concern for the safety of people attending." Nuñez did not provide more specifics on the groups.
Nuñez said he spoke with Pulver over the weekend and while not directly involved in the decision to make Tuesday's meeting virtual, did express security concerns about it. "The protocol for these types of events," said Nuñez, calls for notification of decision makers when there is the potential for physical damage or harm.
"Ultimately, it was our decision," Pulver said, stressing that it was the first time he'd received such a recommendation to cancel an in-person meeting.
At the last Board meeting, when the ethnic studies curriculum was on the agenda, more than 200 people showed up with more than 90 signing up to speak. Most spoke in favor of the optional high school course. Overflow rooms had to be arranged, but even then, participants spilled into the parking lot. Los Alamitos Police officers and private security were present.
Chief Nuñez said that officers assigned to the April 27 meeting said they noticed some of the speakers being verbally abused, leaving them "fearful" but that "there were no reports of physical violence or physical harm."
Pulver said since the April 27 meeting "we have received a ton of emails from all sides," including many from students and parents wondering "how they would be protected."
Los Alamitos High School senior Hunter Dunn spoke at the April 27 meeting in favor of ethnic studies and said he "understood" the district's decision, saying safety was a real concern for students. Dunn and student members of his pro-social justice standards group "Griffin Coalition" reported being heckled at Board meetings.
The decision to go virtual also came one day after Fox News Channel reported on LAUSD's ethnic studies elective and social justice standards. The Fox News segment aired during "Special Report w/ Brett Baier," with Baier introducing it to viewers by saying, "some parents in California say their children are being taught to hate America."
In the segment, Fox News reporter Jonathan Hunt was broadcasting outside LAUSD offices in Los Alamitos. He showed taped interviews with USC professor Jody Armour, LAUSD parent David Ryst, and Harriette Reid, a school choice advocate who has become a spokesperson for opponents of ethnic studies and social justice standards. Ryst and Reid have spoken out repeatedly at board meetings with concerns about LAUSD efforts.
Hunt said he had repeatedly tried to contact Pulver and did not hear back.
Sources inside LAUSD said angry calls and emails began flooding into their administrative offices from all over the country within minutes of the Friday afternoon broadcast.
In a phone interview Monday, Pulver said district officials were already working with law enforcement on a new safety plan for Tuesday's meeting when the escalation of chatter and the Fox News report pushed them to act.
Local supporters and opponents had been rallying their sides to come speak at the May 11 meeting. Some proponents of the social justice standards have shared a flier online saying students are "under attack by right-wing extremists" while opponents claim the other side invited Antifa to the last meeting.
"It's really sad," said LAUSD Board of Education President Marlys Davidson. "This is a school district, not a war zone."
One parent who emailed Davidson and asked not to be identified said she worried the national media attention would bring in "dangerous" people from outside LAUSD.
"I'm all for free speech, but we've seen violence at other meetings like this one and at the Town Hall someone even said people should go to Board Members' houses and make their lives miserable," she wrote referencing a representative of the group Mass Resistance who spoke at a Town Hall held by opponents of LAUSD efforts on April 20.
Chief Nuñez said Los Al PD investigated minor incidents of mischief during and after the April 27 meeting, such as the spraying of a substance on the car of someone who spoke out against the curriculum but said there was insufficient damage to even consider it vandalism.
LAUSD parent David Ryst said he discovered his car was sprayed with shaving cream and paint after he made a comment at the April 27 meeting, but said he was advised by Los Al PD that it wasn't substantial enough to file a report.
Chief Nuñez described the incident as "malicious mischief" in a phone interview.
"It's not our job to serve as Sergeant at Arms at those meetings," Nuñez said, but added "we are responsible to ensure that people attending the meeting are not retaliated against."
"A lot of people can't have this conversation without getting emotional," Ryst said in a recent phone interview. "I like to think that Los Alamitos could have public opinion shared safely."
Ryst, who was featured in Friday's Fox News story, said he went on cable news not to change the Board members' minds, but to raise awareness among other parents to get involved with what's happening at their local school district. He admits that sentiment was not what was featured in the Fox report. In the story, Ryst was quoted as saying the source of the social justice standards, LearningforJustice.org, features anti-capitalist and pro-Marxist content.
Board members have consistently said during the ongoing debate that teachers have requested such standards. LAUSD claims the social justice standards "can support administrators in making schools more inclusive, equitable, and safe for all students by reducing acts of bullying, prejudice, and minimizing conflict escalation." But opponents, like Harriette Reid, have characterized it as a means to turn students into "social justice warriors."
Dunn said before the meeting that opponents like Reid are stoking an argument to promote private and charter schools. "Why do you care what this school does if you're not going to send your kids to it?" he asked rhetorically.
Dunn, and dozens of students, ultimately made their voices heard, as did the opponents, in writing during Tuesday's virtual Board of Education meeting.
With the adoption of social justice standards, LAUSD is now set to vote on the coursework for the ethnic studies elective on June 1. No word yet if that meeting will be held in-person or virtual.