The family of a decorated World War II veteran from Cypress said this week that former Army Specialist Robert G. Yerian, who passed away at the age of 97, will be laid to rest November 11 in the Miramar National Cemetery in San Diego.
Tim Yerian, of Cypress, who has lived in Cypress for nearly 50 years with his wife Dodie, said his dad came to live with them in 2016.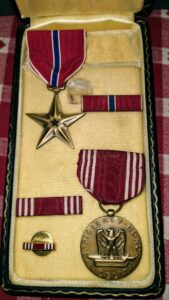 Yerian said his father was a proud U.S. Army veteran who served gallantly during World War II in France, Belgium, Holland and Germany. Bob Yerian was a technician in the Army's 105th Evacuation Hospital Unit, and their duty was to build field hospitals near combat zones and to treat the injured.
Yerian received the Good Conduct Medal (Medal of Fidelity) for his outstanding work building the hospitals and was awarded a Bronze Star by order of the U.S. President.
"He [Yerian] performed his duty in a highly commendable manner. His ability, initiative, cooperative spirit and devotion to duty reflect great credit upon himself and the Armed Forces," said the citation awarding him the Bronze Star.
Yerian served from May 5, 1943, until his Honorable Discharge on March 2, 1946.
After the war, Yerian began an illustrious career in the horse racing industry. Yerian began by taking four horses to Hialeah Park in Florida, where his brother Ray was the starter, then ran horses in Ohio and Florida at Beulah Park, where his brother John was plant Superintendent.
Yerian made it back to California in 1950 after landing a job at Santa Anita Race Track driving a team of four Belgian horses that set and moved the starting gate.
Eventually, Yerian was named assistant starter at Santa Anita and since there was no racing on Sundays in California, he and his brother traveled to the track in Tijuana, Mexico to run the starting gate there.
His son said that during his career, Bob Yerian handled the legendary racehorse Citation, of Calumet Farm in Lexington, Kentucky. Citation won the triple crown in 1948, became a record-breaking stud and in 1959 was inducted into the National Museum of Racing Hall of Fame
The family said he retired from racing as head starter at Santa Anita in 1986 and spent most of his days thereafter watching horse racing on television and staying involved in the sport.
During the pandemic, Yerian spoke out against a city proposal to install a waste transfer station in the city yard near the Yerian home. Afterwards, he spoke out to thank the city
for not moving forward with the project.
Bob was the youngest of 11 children, six brothers and four sisters. He had 3 children; Jeff Yerian, Timothy Yerian and Robin Yerian, and two Grandchildren; Travis and Blake Yerian.
Services will be held at 10:00 a.m. Nov. 10 at Miramar National Cemetery, 5795 Nobel Dr., San Diego with a reception to follow at 11 a.m. at Miguel's Restaurant in Carlsbad.