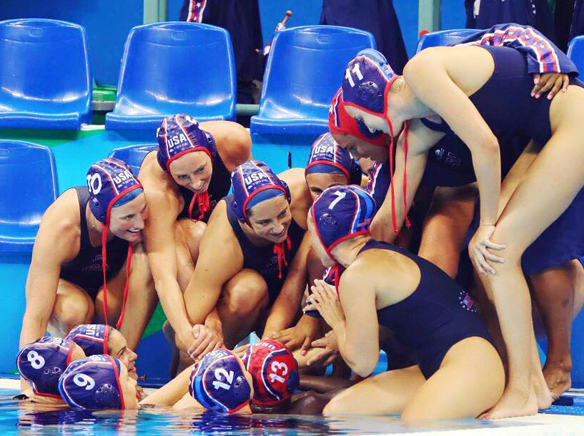 A Huntington Beach local non-profit, and the governing body for the sport of Water Polo throughout the United States, USA Water Polo is hosting their first ever 'Polofest fundraiser to raise funds for TEAM USA and other Olympic Water Polo programs.
USA Water Polo and the Southern California Water Polo community will be coming together for a "Celebration of Water Polo," to not only help raise funds for the Olympic teams, but for local supporters to come out and celebrate their hometown with TEAM USA.
'Polofest 2018 will be held on Sept. 16, from 4 to 7:30 p.m. at Old World German Village in Huntington Beach, during the 42nd annual "Oktoberfest."
The event will be jam-packed with players and supporters from all over Southern California, coming out to support Team USA. Olympians Genai Kerr and Brittany Hayes will be in attendance, to not only meet and chat with fans, but to support the current Team USA.
Along with Olympians, many local players from Los Alamitos, will also be in attendance. Seal Beach native Rachael Fattal is a current member of the Women's National Team and former player for Los Alamitos High School.
However, it doesn't stop there, Los Alamitos is not only a neighbor of USA Water Polo, but also the hometown of the USA Water Polo Training Center, on the Joint Forces Training Base, where the Women's National Team trains.
"I owe a lot of my success to my hometown and upbringing," said Alex Bowen, a current member of the Men's Senior National Team/Olympian. "I grew up in my high school pool, and really learned to swim there until I went off to college."
This can be said for many of the players. They became the players they are today not only because of their skill for the game, but also because of their water polo upbringing in their hometowns.
'Polofest will be a celebration that will be talked about for years to come, not only in Huntington Beach but across Southern California.
With the help and generosity of Old World German Village, and the city of Huntington Beach, 'Polofest is expected to be a huge success, in not only raising funds for the National Teams, but also by bringing a communities together to celebrate water polo.
The $20 'Polofest ticket will include, entrance to "Oktoberfest," a delicious meal of either chicken or bratwurst and two sides provided by Old World German Village, entrance to the All-Breed Dog Races, as well as live entertainment, and streaming of the Men's National Team live from the World Cup in Germany. 'Polofest hours are from 4 to 7:30 p.m., but guests are encouraged to arrive early to enjoy the dog races from 3 to 4 p.m.
Olympian Brittany Hayes will be in attendance supporting the All-Breed Dog Races with her pup Riley, a 5x Weiner Dog Racing Champion.
The goal for 'Polofest is to raise over $30,000 to go towards helping the Men's and Women's National Water Polo Teams by providing the fundamental training, travel and needed equipment required to prepare our current and future athletes for World Championship, Pan American, and Olympic Games. Supporting the Men's and Women's National Teams cost nearly $3 million dollars a year, and with all proceeds made at Old World the day of the event going directly back to USA Water Polo, the $3 million dollar goal will become more attainable.
It takes a village to get these players to and from representing their country on the international stage; therefore every ounce of support is greatly appreciated, not only by the USA Water Polo staff but most importantly the players.
"I would like to thank the sponsors and those attending 'Polofest. Water Polo is an amazing sport and an even more amazing community," said Alex Bowen, current member of the Men's Senior National Team/Olympian.
'Polofest will be a night to remember, not only for USA Water Polo but also for their supporters across Southern California. To purchase 'Polofest tickets visit www.usawaterpolo.org under the "events" tab. For more information on 'Polofest, or other upcoming water polo events, contact Heather Erickson at 714-500-5434 or email herickson@usawaterpolo.org.