With its winter concert threatened by a pandemic, the director of the Los Alamitos High School Jazz and Orchestra program instead found a way to create their "Inspiration 2020."
Program Director Justin Padilla promised he would find a way to "reimagine the music" and indeed, he did.
The resulting 90-minute televised extravaganza not only featured moving performances by the high school's three jazz ensembles, but for the first time ever, the young musicians were able to watch themselves perform.
"They (band students) could not get over the fact that they could actually watch their own winter concert," said Padilla, the program director and jazz conductor.
The televised music concert was packaged much like a variety television special, facilitated by software that allowed each student musician to record their own part, then upload them into the cloud for later editing. The program was then streamed on YouTube and later made available on video.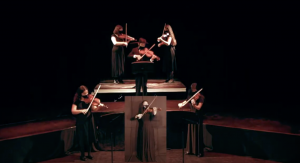 "Each student had the responsibility to record themselves, alter it digitally, then forward it to the studio," said Padilla. "The wind players recorded their parts at home, in their bedrooms and edited it themselves," he added.
This occurred with each student for all three bands, Jazz I, Jazz II and Jazz III.
He credited John Daversa, at Woodshed Studio in Long Beach for helping the team assemble the clips, mix them and then putting the final show together.
Later, said Padilla, Nic Chaffee worked with the rhythm section and took the files from the software and put everything together "at the highest level."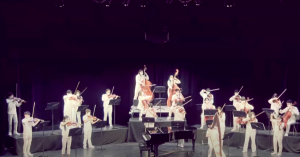 Once the songs were arranged for each song in the presentation, they rented a portable recording unit from Woodshed, and sat together (six feet apart) and used a metronome to play the recorded track for video recording, to which the students had to play at the exact pace.
To get video in sync with the music took many retakes, said Padilla, and the students were understanding and cooperative, saying that in some cases it took multiple "takes."
"These kids were literally making music," said Padilla.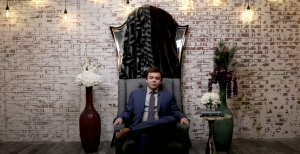 Padilla also expressed satisfaction with his two young co-hosts, Jacob Leonard and Neismar Carrasquillo, both seniors, that he selected to have on-camera roles.
Before each performance in the special show, one of the two young presenters appeared on camera to give the audience the name of the song, the composer, and in some cases, background information.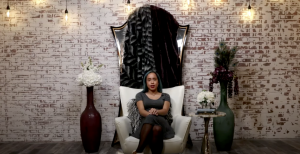 "I've taught Jacob for the past four years and always considered him to be a 'deep thinker,'" he said. "I knew he could verbalize the teenage experience."
Carrasquillo "always stood out," he said, "outgoing, fun and always contributed with information and knowledge," said Padilla.
"They really grew into those roles," said Padilla, "I am so impressed."
Two national musicians, trumpeter Willy Murillo and saxophonist Chad Lefkowitz-Brown, also played leading roles, at once playing along with the jazz bands only to quickly take center stage for a solo.
The musical variety show ranged from traditional jazz performances from Los Al's award-winning jazz bands to an edgy performance from a Los Al garage band, Two Quarters and other student musical efforts.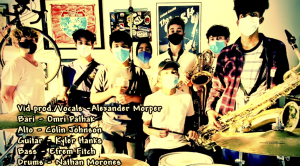 "Los Al has a pretty strong history of young musicians in garage bands going on to become professionals," said Padilla, "so we showcased additional talent."
Having the students involved in all aspects of the performance, said Padilla, including recording and software, was a great way to give them a head start using advanced technology for their chosen professions.
While all his student musicians love music, he said, most will end up becoming professional chemists, engineers, scientists, and engaged in other professions besides music.
Nevertheless, Padilla said this pandemic experience taught them "how to implement change in the real world."
Conner Brown, a Los Al High School alum, did much of the video production in association with Larry Strawther and Los Alamitos TV, he said.
District Supt. Dr. Andrew Pulver made an appearance on the broadcast to thank Padilla and the students for their innovative improvisation. "They've really really had to think creatively and still find the passion and an outlet for our students who are immensely talented, my hat has to go off to all of our staff and really our parents," he said.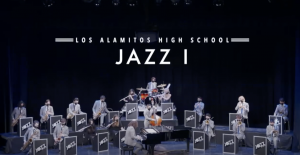 Regarding the final product, Padilla said "I am one thousand percent satisfied." Moreover, he said the community support has been reassuring and even with the community returns to the new normal, Padilla said he will likely look for a way to do something similar.
Even more encouraging, the community opened their hearts and their pocketbooks for the Los Al Jazz and Orchestra Program.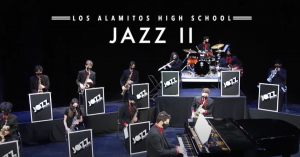 While the winter concert fundraiser usually nets about $2,000 for the program, Padilla said "Inspiration 2020" has raised more than $11,000.
"This was a spectacular show! We are grateful to Mr. Padilla for providing this amazing opportunity to our students during these exceptional circumstances," said band parent Paurvi Trivedi. "We all benefited from inspiration as we rallied to close out 2020," said her husband Pankaj.
Another couple, Mark and Claudia Reed, said "we loved sitting down with our family and enjoyed the great music from these talented individuals. What a great show and professionally done."
Already, Padilla is thinking about spring and the "Spotlight" event. For more than 40 years, "Spotlight" on Los Al Jazz has never missed a spring event.
"We won't miss this year either," said Padilla, as they are considering a "drive-in" concert and other options.
"This community has a love for music," said Padilla. And, he said, the "community will do almost anything to see these kids perform."
"We will find a way," he said.