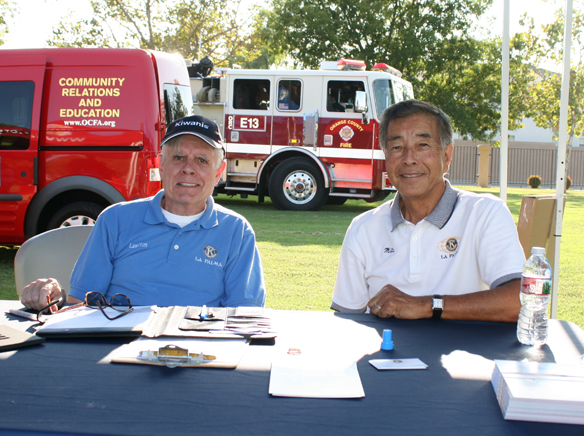 Residents of La Palma gathered on Saturday night, for food, music and civic engagement at the city's Concert in the Park at the Community Center.
The event also included Civic Night, as well as the National Night Out event for police to meet with residents and discuss how they look to service the community. The civic expo included city departments, as well as service organization, politicians and outside service agencies.
The event was capped with a concert by British Invasion, a band that covers many of England's bands that were contemporaries of the Beatles. La Palma council members were also trying to get the word out about the upcoming La Palma Community Foundation events that are looking to raise funds to support next year's Every 15 Minutes program for Kennedy High School.
The foundation will host a Groovy '70s Party at the Knott's Berry Farm Resort Hotel, on Sept. 22. The '70s themed dinner will be the second annual fundraiser for the program. The La Palma Community foundation is a non-profit organization that was formed to help provide public safety and youth programs for students in La Palma.
For more information visit lapalmacares.org. Anyone interested can also email the foundation at lapalmacommunityfoundation@gmail.com.
The foundation also hosted the Police & Volunteer Recognition dinner this year, which honored work and achievement of the La Palma Police Department, as well as its support staff and volunteers.
The city is also planning a new event this year, a Hometown Heroes Concert, scheduled for Sept. 15. The event will honor area residents who have served, or are serving in the U.S. armed forces. The event is scheduled for 5 p.m. Information will be available as planning continues, at cityoflapalma.org.