One of the most anticipated games in the state was played at Huntington Beach High
School between the undefeated Edison Chargers and the Los Alamitos Griffins. The
Sunset League showdown featured two teams, both jockeying for position heading
toward the playoffs.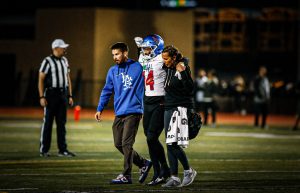 The Griffins limped into this matchup with several starters on both sides of the ball not
suiting up. When you take into consideration that their two most potent offensive
weapons left last week's game with injuries, things didn't look promising. The Griffin's
star wide receiver and cornerback, Makai Lemon, was a game-time decision and started
the contest only playing on the defensive side of the ball. The Chargers on the other
hand had outscored their opponents by a combined total of 258 to 93 and boasted an
impressive undefeated record.
When the Griffin's opening drive ended in an interception, only to be matched by a
Chargers interception on the very next play; everyone knew they would be in for an
incredible game and it did not disappoint.
The Griffins jumped out to a 14-7 lead after one quarter and were on the verge of
scoring again when Damien Henderson, their starting running back, went down with an
apparent injury and had to be helped off the field. Both teams continued to score, going
in at halftime with the Griffins leading 31-14.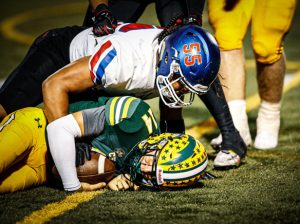 In the second half, the Chargers got as close as 31-21 before the Griffins pulled away.
Damien Henderson returned to the game, showing his toughness as he finished with
258 yards rushing. Makai Lemon came up with a clutch interception in the endzone,
which sparked a late surge by the Griffins, culminating in an impressive 52-27 victory.
The Griffin players took it as a sign of disrespect when the Chargers chose to play them
for their homecoming game. If a depleted Griffin squad was able to dismantle the
Chargers by 25 points, imagine the final score had they been healthyThe Griffins are well on their way to another Sunset League championship, with
Huntington Beach and Fountain Valley the only remaining teams on their schedule.
Come out and support the Griffins for their homecoming game on Friday, October 21,
2022, at 7 PM at Veteran's Stadium in Long Beach.