The Halloween Carnival at Los Alamitos Race Course returns for the first time in three years with a fun-filled evening of carnival games for the entire family on Saturday, October 29.
The track's popular costume contest will be one of the highlights of the night with seven different age categories offering cash prizes throughout the night. The Carnival will begin at approximately 6 p.m. Admission is only $3 and kids 17 and under are admitted FREE. Los Alamitos also features free general parking. The Halloween Carnival is held in conjunction with the live horseracing program.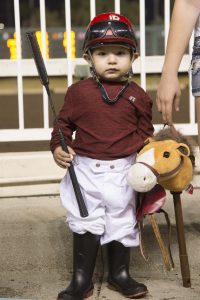 Staged on the track's large grandstand area facing the finish line, the Halloween Carnival provides a safe, enclosed place for all to enjoy an evening filled with more than 20 fun carnival games and goody bags for all costume contest participants. Individual game tickets will be available on the night of event for as low as 25 cents each (please note that some games require more than one ticket).
In addition to the large variety of carnival games, other fun activities include pony rides, football toss, and a photography booth.
The annual costume contest attracts approximately 350 participants each year, making it one of the largest costume contests in Orange County. There will be seven different age divisions with first place in each of the categories worth $200, plus $125 for second place, and $100 for third.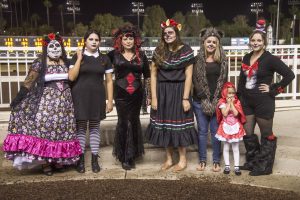 Everyone that participates in the costume contest will receive a goody bag filled with candy. Age categories include 2 & under; 3 & 4-year-olds; 5 & 6-year-olds; 7 & 8-year-olds; 9-12-year-olds; 13-15-year-olds; and 16 and up. The winners of each divisional category will qualify for the $500 grand prize.
"All of us at Los Alamitos Race Course cannot wait to welcome back Halloween Carnival goers for the first since 2019," said Orlando Gutierrez, the track's marketing director. "We have truly missed not having this event the past few years and can't wait to see so many great costumes. We are also very excited to raise funds during the Halloween Carnival for a great organization."
All proceeds from the Halloween Carnival will benefit the Champions Division of the Cypress Pony Baseball League. The Champions Division is open to children and young adults ages 4 and up, with any type of special need.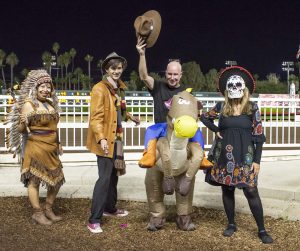 The goal of the Champions Division is to provide every child, regardless of special needs, the opportunity to participate in America's favorite pastime of baseball and softball. It is the league's goal to provide an environment that enhances the participants' self-esteem, physical mobility, and embodies the spirit of teamwork and community.
The evening's activities will also feature live Quarter Horse and Thoroughbred racing. Los Alamitos Race Course hosts the premier quarter horse race meeting in the world with live year-around racing taking place on Saturday and Sunday nights. Los Alamitos Race Course also hosts daytime Thoroughbred racing on December 9-18. For more information, please call 714-820-2800.