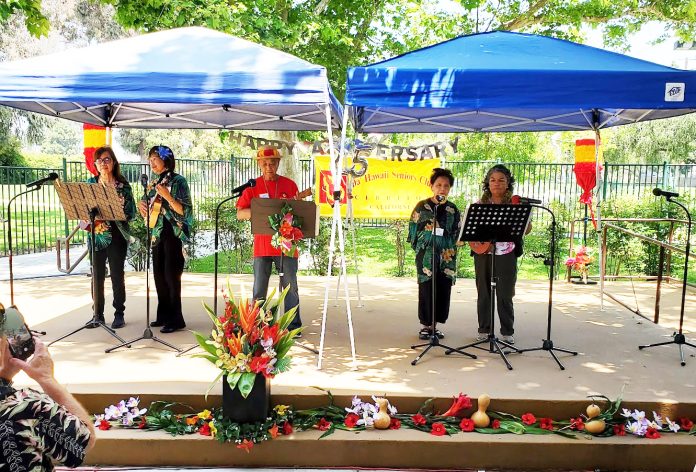 Members of Da' Hawaii Seniors Club gathered at Liberty Park in Cerritos to celebrate the 25th Anniversary of the Club on Saturday, May 13, 2023. Almost 100 members and guests started arriving at 10:30 a.m. to register for the event and receive name tags and drawing prize tickets. The front of the stage was decorated with beautiful flowers, and the club's red and gold banner and two red and gold kahilis were placed at the back of the stage. (Kahilis are Hawaiian feather standards that represent royalty.) The tables were beautifully decorated with flowers and green Monstera leaf place mats.
At 11:15. a.m., President and Master of Ceremonies Carmelita Tiongson welcomed members and guests to the celebration. Larry Anduha led the Pledge of Allegiance, and Hedy Anduha led the singing of Hawaii Pono'I and "Happy Birthday" to May birthday members. Hedy also said an invocation before the meal and prayed for members Frank Yoshii and Harry Aipia who were not feeling well on this day. The afternoon was filled with music that people enjoyed hearing, hulas that they enjoyed watching, and eating the abundant and ono pot-luck dishes that members brought for lunch. Carmelita said that the special 25th Anniversary cake was purchased by the club from a donation received from the club's Festival of Friendship participation.
Entertainment Co-Chairs Susan McCormick and Frances McCormick introduced the different groups who performed. They included Ann Kho doing a solo of "In This Life," and her Angklung Group of Cerritos playing "I Have a Dream" and "It's a Small World" with their Angklungs, Rosaria Manetta doing a hula to E Kolu Mea Nui, John Yanagihara and Friends singing "Memories Are Made of This" and "Yesterday," Na Ipo Hula group dancing the "Aloha Week Hula," the E Mele Hana singing "I Am What I Am" and "Sing", Larry and Hedy Anduha singing "My Yellow Ginger Lei," the Kupuna O' Cerritos dancing to "Blue Hawaii" and "Ka Uluwehi O Ke Kai."
Carmelita thanked everyone for coming and said that "every single Picnic Committee team member contributed to the success of the picnic and every single member made it happen." There were about 25 members of the Picnic Committee and other members who helped to do whatever was needed. She wanted to especially acknowledge and thank the following head team members: Picnic Co-Chairs Liberty Santiago and Georgina Onaga for planning and overseeing the entire Picnic from start to finish; Howard Koga for his help with Audio Tech; Amy Tong and Annie Kelly for e-mail Communications and Reminders; Janie Aguirre for Registrations; Marion Tesoro and Carol Roxas for being in charge of the Games and Raffles; Bette Kurihara for chairing the Refreshments and Food Committee; Ann Kho for Set Up and Decorations; Gilbert Aguirre and Larry Anduha for guarding the entrance; Ed McCormick for setting up two Pop-Up tents to protect the performers; and David Ethington for taking photos of the celebration. Liberty thanked everyone for helping with the different sub-committees. She especially thanked everyone who helped as part of the Clean-up Committee at the end of the day.
The 25th Anniversary Celebration ended with the singing of Aloha O'e and Hawai'I Aloha led by Danny and Winona Chang. As a surprise, all mothers and grandmothers went home with flowers for Mother's Day from the club. All members received raffle prizes because members donated so many prizes. Some lucky members also went home with leftover food from lunch!
Persons interested in joining Da' Hawaii Seniors Club can contact Mryna Matsuno at 310-538-2148.