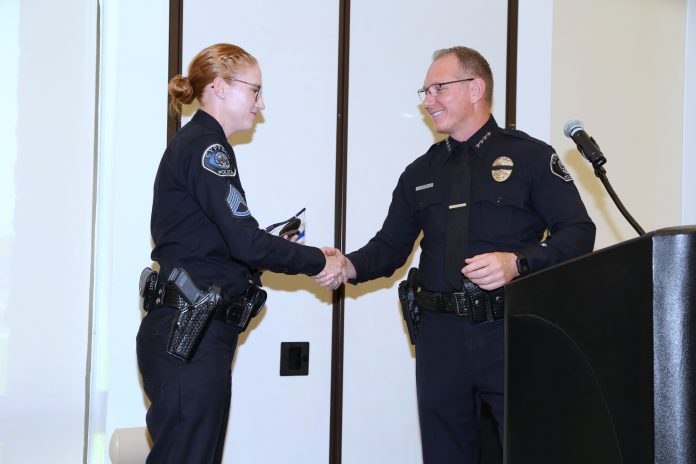 Hundreds of citizens, officials, and nearby law enforcement officials joined the Cypress Police Foundation on May 16 to celebrate its 11th Annual Police Appreciation Luncheon.
The group honored volunteers, administrators, citizens, and officers as Sgt. Cassie Olivas was named the 2022 Cypress Police Officer of the Year.
Foundation president Dr. Don Pettinger welcomed the capacity crowd to the Cypress Community Center Tuesday, saying it was indeed an honor for the CPF to serve the "men and women who keep our community safe."
"Whenever the department comes to us to say this is something we can use, we work very hard to put it together for them," said Pettinger.
This year, the foundation raised more than $11,000 to purchase 121 new badges for the Cypress Police Force, a project long in the works and in fact, designed and selected by the officers themselves.
"On behalf of all the men and women of this department, I want to say thank you to the Cypress Police Foundation," said Police Chief Mark Lauderback.
Lauderback told the crowd that the new badges represent the carrying forward of great traditions in policing within the city, but in a way, also a fresh start for the department, now with a new badge and a completely renovated police station.
Lauderback, who was selected to replace long-time police chief Rod Cox in 2021, has been busy putting a fresh face on the department. Now, two years in, Lauderback's presentation Tuesday seems to suggest he is very happy with the results thus far.
"I am very proud of the participation of the entire department," he said, especially during the development and selection of something as sensitive as a new badge for the department.
"We welcomed any input and ideas from the entire department regarding the new badge," the police chief said.
While incorporating many of the old markings, the new badges reflect the number "36," which he said is a Cypress Police Station's numbering designation in association with other local departments. The new badges also are in line with the city's rebranding efforts.
Incredibly, said Lauderback, the winning design was chosen by more than 96 percent of personnel on the force. "Only two employees did not vote for the winning design," he said, reflecting an overall unity within the ranks.
Small replicas of the new badge were given to everyone in attendance as a souvenir for the day as the foundation showed a video of Cypress officers going through the process with a local milling company to participate in the making of the badges.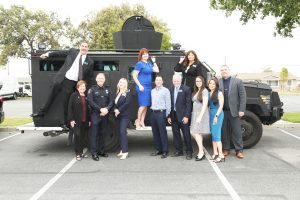 Also, Lauderback named Netherlands-born Sgt. Cassie Olivas as the Cypress Police Department Officer of the Year.
"She moved to California with her parents at three years old," said Lauderback.
Eventually, he said, Olivas enrolled at Cal State University Bakersfield, before transferring to Cal State Fullerton where she graduated cum laude with a bachelor's degree in criminal justice. She has earned a master's degree in public administration from National University and holds certifications.
She joined the Fullerton Police Academy and began her career with the Cypress Police Department in 2010. In 2018, she was promoted to the rank of Sergeant, then read a long list of local, state and Congressional citations to exemplify the investigative, detective and enforcement tasks she has completed over the years.
In addition, Sgt. Olivas works throughout the community, promotes women's conferences, and works with citizen initiatives and other projects.
"Without hesitation, Cassie consistently takes on projects and completes tasks while maintaining a positive attitude," said Lauderback. "She is a highly effective leader," he said, "and for actions that have exceeded expectations, Sgt. Cassie Olivas, you have demonstrated why you are deserving of this recognition."
"There are plenty of other people on that ballot who could be up here receiving this award," said Sgt. Olivas. "I wouldn't be able to do this job without everyone else in this room," she added.
She also thanked her husband and family, peers, and mentors. "I do appreciate this award with the utmost respect and humbleness," said Sgt. Olivas, "and I genuinely thank you with my entire heart."
In addition to Olivas, Lauderback named Office Assistant Elizabeth Barrington as the 2022 Cypress Police Department Employee of the Year and Police Chaplin Brandon Beukelman as Volunteer of the Year.
Moreover, Foundation President Don Pettinger was named by the Department as 2022 "Citizen of the Year." "The citizens of our community and the Cypress Police Department are fortunate to have Don involved in our community," said Lauderback,
"As Supt. of Grace Christian School, he has a strong passion for school safety and disaster readiness plans so it is our pleasure to recognize Don Pettinger as our 2022 Citizen of the Year."
Other local Chiefs of Police, including Seal Beach Chief Michael Henderson and Los Al Chief Michael Claborn, attended in solidarity with their fellow department.
Mayor Anne Hertz-Mallari and members of the City Council were also in attendance, along with a long list of other city and visiting elected officials.