A woman who has repeatedly expressed opinions and later, signed on to a voting rights complaint against the city of Cypress said this week that she feels the city is not taking harassment against her seriously.
Cypress resident Katie Shapiro forwarded her email correspondence from city officials this week, suggesting with screenshots from harassing emails she claims were from a Cypress city employee, yet officers told her and a witness that it would have been "impossible" for a city employee to have done it.
Only after repeated attempts to have the city respond, including speaking directly to city manager Peter Grant during oral communications periods of city meetings, a series of emails, and two visits to the city's police department, Katie Shapiro said the city has responded.
Further, Shapiro said City Manager Peter Grant sent a dismissive response only after being nudged by two emails from Mayor Pro-tem Anne Hertz Mallari.
Shapiro shared text messages from a self-identified "city employee" that she received on May 9, harassing her for speaking out at city council meetings regarding the trash contract.
The text message, which was delivered to her personal phone, suggested "city employees ignore" Shapiro and other "activists" in the city because they are "dishonest and lack integrity."
When Shapiro inquired about the name, the texter said only, "I'm a city employee." They also decline to give their name, saying "like I'm going to tell someone who publicly states me and my co-workers are corrupt."
Shapiro says she has questioned the Council but has never accused anyone specifically of being "corrupt."
Shapiro said she and Dr. Malini Nagpal visited the Cypress Police Station shortly thereafter seeking an investigation of the potential harassment from a city employee. She said officers told her it was simply "impossible" for city employees to have done that because they knew all of them.
Nevertheless, Shapiro said she still requests an investigation.
After a few days went by without hearing from Cypress Police, Shapiro said she went, this time asking to see Chief Mark Lauderback. "I was told to go through the chain of command," she said.
The ENE has reached out to Cypress Police to confirm her meeting with the officers and we have requested a statement on the progress of the investigation itself. At press time, we had not received a response.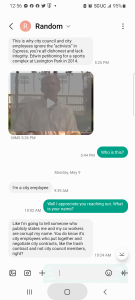 Frustrated by the lack of action, on June 3, Shapiro sent an email to the Mayor, Council, Police Chief and City Manager asking for help.
Only after Hertz-Mallari returned from vacation and again reached out, copying Grant and asking Shapiro if she'd heard from him, did the city manager finally respond.
"This email is a follow-up to your recent communications with Mayor Pro Tem Hertz in which you state a city employee 'actively sought out my personal information with the intention to threaten and intimidate,'" responds Grant.
"I confirmed Cypress PD was investigating your report(s) and that any evidence a city employee was involved would be forwarded to me and our Human Resources team. Beyond that, city management does not intervene in PD investigations," said Grant.
He told Shapiro that "If our PD finds evidence an employee is involved in the matter you reported, the city will conduct an administrative investigation (in addition to PD's investigation) and respond appropriately."
"If you would like to file a complaint with my office about the "'self-identified' city employee," please provide all communications you have had with this person, including all information the city may use to identify them," said Grant.
You would think the city is in a better position to identify a city employee than the recipient of a text message, Shapiro said.
She said Grant's response "doesn't surprise me, it's still patronizing and is not taken seriously. The city manager sets the tone and narrative for the entire city."
Since being a Council watcher, Shapiro said she thought Grant was providing "toxic" leadership. If Cypress Police and city hall do not provide a serious investigation of the incident, she said, Shapiro promised a claim against the city.