A native Italian chef has taken "home cooking" to a whole new level.
Despite the pandemic, Chef Christian Simionato is offering local families a chance to enjoy a safe, yet tasty diversion in the form of a socially distanced taste of Italy.
Simionato's cooking odyssey began on a tiny farm near Venice, took him around the world working for top chefs and eventually to Signal Hill, where he moved five years ago.
"I was raised on a farm outside Venezia, Italy, growing the finest vegetables and fruits, farming grass fed livestock and learning how to respect and cook using all those ingredients," said Simionato.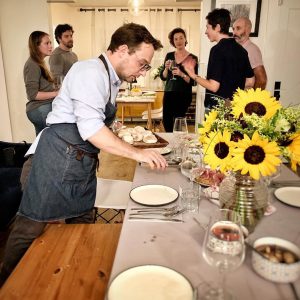 Simionato's mom taught him the basics of Italian cooking, he said, while many family members in his "very large family" each had their own Italian delicacy, eventually passing them on to him.
Also, after his uncles and father butchered pigs in the winter (boucherie), they taught Simionato how to prepare charcuterie meats, while his aunt Mariuccia taught him to age and cook wild game.
Simionato said he was transfixed by the smells and tastes of his early years, which put him on a path to become the chef he has become today.
"At 14, I chose to pursue a culinary career, eventually graduating with a chef's diploma at ISPAR G. Maffioli Castelfranco, Veneto," he said. Simionato was soon hired by top Italian Michelin Star rated restaurants, which eventually led him to understudy with incredible professionals in restaurants around the world, including London and Beijing.
Despite those experiences, Simionato says lessons learned in his grandmother's kitchen have perhaps been among the most valuable lesssons at all. For instance, Simionato says it was his grandmother who first explained to him that while water is water, it is uniquely composed of different minerals everywhere in the world.
As a result, Simionato says in every location he's ever worked, he's been able to "bake perfect bread" simply by using his grandmother's compensation technique. Although he's trained with the world's best chefs, much of his earliest training, on the family Veneto farm, still travels with him.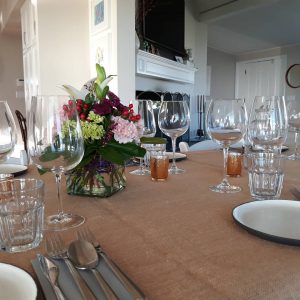 Simionato has been in America for a decade and, since moving to Signal Hill, he has met and teamed up with another Italian native who lives locally.
"When I met him, I just knew he was Italian," says Debora Zoli. She said they met in Long Beach and have since decided to work together. Her events company promotes Simionato, arranging dinners and other tasks.
Simionato offers diversified cooking services, including a chef consultancy, Italian cooking lessons and personal chef services. Since the onset of the pandemic, Simionato has generally been limited to the home cooking and personal chef services.
"I've found a safe way to provide personal chef services to local families," he said, by preparing for them multi-course Italian meals at their own residence. More that that, his extensive historical knowledge of foods and their origin makes him a very entertaining and tasty host.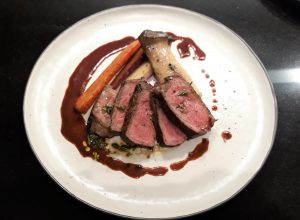 "I had the pleasure of hosting several dinner parties with Chef Simionato," said Rossmoor resident Julie Chad," and it was a great experience." Simionato delivers dishes that are "delicious" and "the service was outstanding."
"I am often in Rossmoor, Los Alamitos and Seal Beach," said Simionato, noting he often serves families throughout the area, either cooking directly for them or delivering his weekly specials to them.
In addition, even when serving within a local residence, Simionato demands that he use his own equipment so "I can guarantee proper sterilization," he said. In addition, he generally limits the in-home guest list to no more than six people.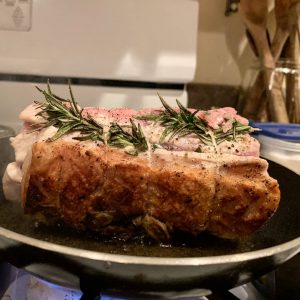 As added security, Simionato tests himself for the virus the day of the event and, as an added precaution, "I wait at least two weeks before doing another dinner."
Simionato works with his hosts to develop a menu for each dinner, then of course, recommends the perfect wine to accompany the dishes. His guests are welcome to supply their own mine, but they may miss out on his other secret.
Simionato is also a partner in a wine importing company, which imports and distributes boutique, organic and vegan wines to accompany dishes like marinated grilled Cornish hen, Tagliata Barbesin boneless beef ribeye, Pochetta with wild fennel, etc.
Aside from the aromatic smells and scrumptious taste, Simionato also provides an extra dimenson by explaining the origin of the foods.
For instance, he said most people believe 'cous-cous' is a Lebanese dish, "but they forget that during early world history, Arabians occupied Sicily for 600 years," said Simionato.
"We never forgot the dish," he said.
"You have to remember," said Simionato, "modern Italy is only 150 years old," noting it has centuries of Spanish, Austrian, and many other influences that have affected modern, yet blended Italian cuisine.
"I always like to bring something people are not familiar with," said Simionato. "I bring curiosity and things you cannot find in a store."
His "farm to table" cuisine includes pescatarian, vegetarian and vegan options as well, including dishes such as marinated grilled steelhead trout filet.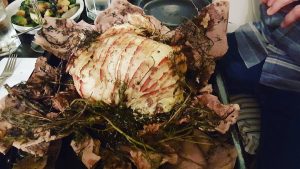 Though largely sidelined by the pandemic, Chef Simionato is well known for his "pop-up" dinners and his chef consulting and cooking classes.
In some ways, the slower pace of the pandemic has allowed families to relearn the beauty of the simple togetherness of a nice meal.
Today, said Simionato, "sometimes we are too busy documenting our experiences to enjoy their beauty." Accordingly, he said his local pandemic dinners remind him of a traditional
European family dinner, which can go on for two hours or more, with everyone engaged and seeking to participate, even without their phones.
Entertainment happens, he said, "when I offer things way beyond the price." Once his guests tastes his touch of Italy, he offers them a weekly lunch special that can be delivered to their homes and offices.
And, with Valentine's Day rapidly approaching, the chef from the Italian land of lovers has planned a special menu. Two options, both filled with savory Italian choices within the five courses. Being a holiday for lovers, it, of course, ends with a choice of deserts, including "Strawberry tart vanilla, with "double" chocolate sauce. Momma mia.
This innovative Italian native, now settled a long way from Venice, is happy making house calls, bringing joy and nourishment to fatigued families frustrated about being locked down.
"We feed everything," said Simonato, including the "mind, body and the soul."
Editor's note, for more information, contact Debora Zoli at dgeventsllc@gmail.com.