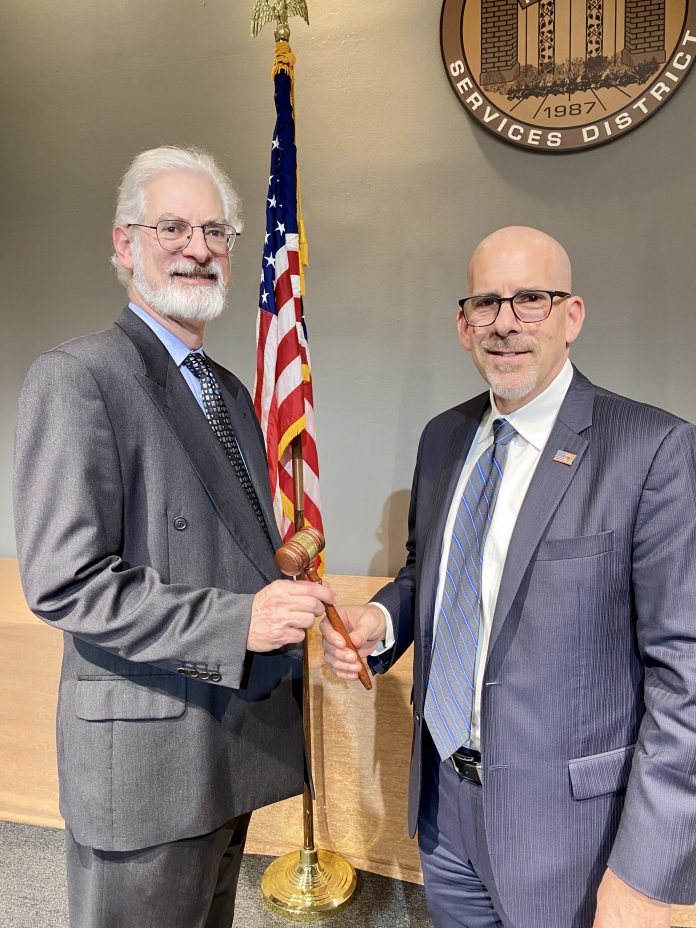 Rossmoor Community Services District outgoing Acting President Mark Nitikman presented the 2020 State of the District Address at its Tuesday, January 12, 2021 regular meeting of the Board. The address focused on how the District overcame the many financial and operational challenges posed by the pandemic, as well as noteworthy events and achievements over the past year.
"I do not have to tell you that the past 12 months have been challenging. But the District has nevertheless been successful at overcoming these challenges to maintain, as much as humanly and legally possible, the programs and services it provides for Rossmoor residents," began Acting President Nitikman.
Nitikman went on to highlight the District's many milestones, "RCSD continues to take pride in its urban forest. The District earned the Tree City USA designation for the tenth consecutive year. The highlight of 2020 was the early payoff of the 30-year Rush Park Bond…saving the District approximately $7,000 for the final year's interest payment and saving Rossmoor property owners their final payment of $108.60. As a result of the November 2020 elections, four RCSD Directors were sworn in at the December 2020 Board Meeting. New Directors Jeffrey Rips and Nathan Searles were welcomed to the RCSD Board, while incumbent Directors Jeffrey Barke and Tony DeMarco returned to the Board for another term. The Board honored outgoing Board Directors and former Presidents Ron Casey and Michael Maynard for their leadership, dedication, and love for the Rossmoor community. In closing, while 2020 has been a difficult year, it has also been a year filled with accomplishments and progress."
Acting President Nitikman concluded, "The Board, the Directors and especially the Staff have endured and adjusted to the ever-changing Covid-19 restrictions and guidelines and have shown the resiliency that carried us all through these difficult days." The entire address can be read on the RCSD website at www.rossmoor-csd.org.
Afterwards, the annual election of officers was held with results as follows:
Jeff Barke, President, Tony DeMarco, First Vice President, Jeffrey Rips, Second Vice President, Mark Nitikman, Director, Nathan Searles, Director.
Newly elected President Barke thanked outgoing Acting President Nitikman for his bridge leadership over the past year. President Barke also congratulated First Vice President DeMarco and Second Vice President Rips on being elected to facilitate the board's 2021 vision. These individuals will serve a term of 12 months during the calendar year 2021.
"Thank you to my fellow board members for entrusting me to lead this organization in 2021. I want to wish everyone a Happy New Year. I am looking forward to the year ahead." President Barke stated.
In addition, the Board, serving as the Public Improvement Finance Corporation held an election of officers and appointment of officials as follows:
Corporation President, Jeff Barke, Corp. Vice President, Tony DeMarco, Secretary/CFO Joe Mendoza, General Counsel, Jones & Mayer.
These individuals will also serve a term of 12 months during the calendar year 2021.
Also, that evening, long time Rossmoor residents Milt and Beverly Houghton were presented with proclamations honoring them for their outstanding citizenry, volunteerism, and leadership in the community of Rossmoor. Captain Knutson of the Orange County Sheriff's Department presented the quarterly crime statistics. It was noted that most crimes in Rossmoor were crimes of opportunity and could be prevented by encouraging residents to park their cars in their garages, install adequate lighting on their property, and join their Neighborhood Watch Program.
Regular meetings are held on the second Tuesday of each month at 7 p.m. in the Rush Park auditorium, 3021 Blume Dr. in Rossmoor. Meetings are also televised on local channel LATV-3 and online at www.rossmoor-csd.org.