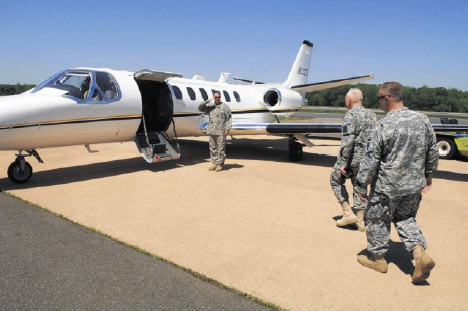 The U.S. military has opened up a 30-day comment period for an Environmental Assessment that found "less than significant impacts" to a plan by the U.S. Army Reserve that is expected to bring new activity to Joint Forces Training Base in Los Alamitos.
According to a document released by the U.S. Army Corps of Engineers this week, the proposed action will relocate a contingent of 18 personnel and a fleet of four Cessna Citation Ultra jets from Fort Hood, Texas to JFTB.
The local military base already hosts elements of the U.S. Army Reserve (USAR) 63rd Readiness Division (RD), and the fleet of four Citations are expected to participate in more than 200 landings and take-offs (LTOs) annually, the document contends.
"The purpose of the action is to relocate Detachment 1, Company B, 6th Battalion, 52nd Aviation Unit personnel and UC-35A aircraft near major transportation hubs that service the southwest region," according to the Environmental Assessment.
"There is a need to enhance crew readiness, improve mission command of Company B, and provide increased support of Joint Operational Support Airlift Center (JOSAC) mission requests in the southwest region," it concludes.
Further in the document, the military concludes that Fort Hood, a base that now houses the air transportation unit, is perhaps too remote. Since most of the pilots that fly the jets that ferry military officials around the continental U.S. are airline captains for major carriers, military officials believe JFTB offers them access near a major transportation hub.
"Most of the UC-35A pilots fly for commercial airlines and commute to perform their USAR duties. The pilots live across the country and commute via commercial flights. Many of the pilots have USAR duties more frequently than one weekend a month. The Unit is currently located at Fort Hood, TX, which is near (8 miles) a small regional airport offering limited flights with major airports further away in Austin (80 miles), San Antonio (140 miles), Dallas (170 miles), and Houston (201 miles)," said the study.
"Relocating personnel and UC-35A aircraft near multiple large travel hubs will provide multiple commuter options and more frequent commercial flights, enabling pilots to efficiently commute to perform their USAR duties," the study concludes.
Major airports near JFTB Los Alamitos include Long Beach (8 miles), Santa Ana (18 miles), Los Angeles (26 miles), Burbank (38 miles), Ontario (45 miles), and San Diego (105 miles). "These travel hubs and major airports offer more flight options for commuting pilots and would make scheduling pilots for USAR duties more efficient and manageable," it said.
The need for the Proposed Action is to "enhance crew readiness, improve mission command of Company B, and provide increased support of Joint Operational Support Airlift Center (JOSAC) mission requests in the southwest region. The number of UC-35A pilots is extremely limited."
These pilots must first be proficient C-12 pilots before they can become UC-35A pilots," it said.
The Corps study also concludes that the relocation will involve minimal disruption, since hangers at the base that already house similar jets have ample space for the four new Citations. "The aircraft would move into the existing CA023 facility which has ample space inside and on the airport apron," said the study, noting that "the proposed action does not require construction, renovation, demolition, or land-disturbing activities."
The Army Corps' environmental review found the additional 200 annual flights would contribute to increased emissions, but impacts would be minor, and no mitigation measures are required. The future flight operations would increase noise levels at and around the Los Alamitos base, but the noise levels would be within existing parameters. California National Guard policy already requires minimum flight altitudes and designated no-fly areas to minimize the effects of aircraft noise.
The study also notes that military officials have already reached out to city managers in Los Alamitos, Seal Beach, Cypress and to the General manager of the Rossmoor Community Services District to discuss the pending relocation.
"The Army invites public participation in the NEPA process. Consideration of the views and information of all interested persons and entities promotes open communication and enables better decision-making. All agencies, organizations, and members of the public having a potential interest in the Proposed Action, including minority, low-income, disadvantaged, and Native American groups, are urged to participate in the decision-making process."
Citizens have until May 3 to comment on the plan, which can be downloaded at http://www.LosAlamitosEA.com.