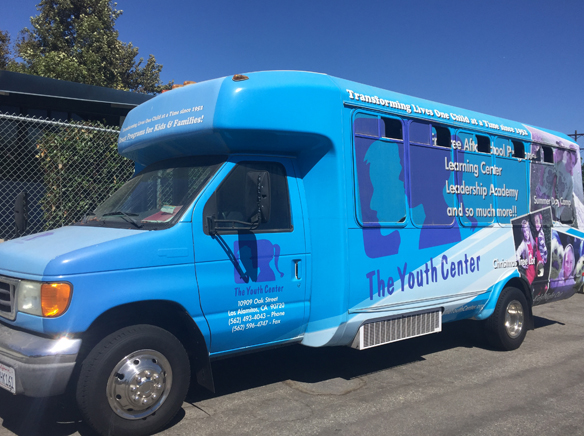 The Youth Center in Los Alamitos recently experienced the theft of a costly catalytic converter from their youth bus, making it unsafe to operate. A report was filed with Los Alamitos Police Department on Sept. 28, as staff members noticed the part was missing at 3 p.m. that same day. It's believed it was taken sometime in early morning or the prior evening.
Norm's Automotive, a longtime supporter of The Youth Center, is working with the nonprofit to replace and repair their vehicle. The part is expensive to replace and costs more than $3,000.
"It looks like it was a professional job," said Youth Center Executive Director Lina Lumme. "Usually, thieves canvas the area and take a number of these parts before moving on to another location. We're calling on the public to remain vigilant and aware."
"Is nothing sacred?" said Youth Center Board Member Arnie Fine. "I'm disgusted with what happened. The Youth Center bus is clearly marked with photos of children all over it, and this is who is being robbed and placed in danger."
The Youth Center staff is handling the issue by working with their insurance company to fix the bus in a timely manner. Though insurance will cover the cost of the part, the deductible will come out of pocket from the Youth Center. To help them defray the cost, The Youth Center is looking for a Good Samaritan to help cover the deductible. If you are interested in helping, please contact Executive Director Lina Lumme at 562-493-4043.
If anyone witnessed anything suspicious on or around Sept. 28 in the Los Alamitos Community Center parking lot, please contact Los Alamitos Police Department at 562-431-2255.