Long before she was active in the local political scene, Los Alamitos mom Tanya Doby has apparently been active in the education of her children as well as those attending Rossmoor Elementary as she was named as the school's 2022 "Hero of the Heart."
"Tanya is all about the heart," said Rossmoor Elementary Principal Amy Coltey, "and she makes sure that she spreads joy and love."
Doby and her husband Josiah have two children, a son, Justice, who is a former Rossmoor Knight and a daughter, Sage, who is currently a 4th grade student at the school.
"Tanya has a way of finding volunteers for whatever we need," she said, "so Rossmoor parents immediately feel welcomed when they meet her. She really has a way of making us feel like family," said Coltey.
"She's a huge part of our success when we partnered with LAEF to ensure that Rossmoor Elementary's STEM lab would continue to be part of our students experience," added Coltey.
Previously, she said, Doby served as the President of Friends of Rossmoor Elementary for three years, and has also served as VP and now serves as Treasurer. Tanya has helped coordinate STEM lab activities and been "an invaluable volunteer at Rossmoor for a number of years, and has worked in her children's classrooms as a room parent coordinator, fifth grade T shirts chairperson and in numerous similiter capacities."
Doby is also, apparently, quite a field commander when it comes to volunteering, said Coltey,
"Our PTA and Friends groups would come together and tell her which volunteer spots were still vacant at the beginning of each year. And you give her two to four weeks and she's got all positions filled and you're like, 'wow'," she said.
"Last year, Tanya also served as our PTA Council liaison, [on] our Los Al at home program and I'm sure I'm missing like 20 things that Tonya has done. And she has supported me. Thank you. She's just a great person. Our staff is really thrilled to honor her tonight."
The ceremony honoring Doby came at the last board workshop of 2021 and board members were also quick to add their praise.
"I first met Tanya at a PTA Council meeting," began board member Meg Cutuli. "You just kind of walked in, took a job and it's so true; whenever there is a need, Tanya either finds it within herself or someone else who will step up and take care of it."
"You are so inclusive, and you're just dedicated so that every child has a great experience. And you do have a great sense of humor. So I always like it when you show up for PTA council meetings. This is most warranted," said Cutuli.
"After listening to that, Tanya, I have decided that every community needs a Tanya, every organization needs a Tanya and everyone in your life needs a Tanya, so thank you and congratulations," said board member Chris Forehan.
"I'm just going to hide behind my plant," joked board member Scott Fayette, "because last time I talked to Tanya and I volunteered for something that I wasn't aware of."
"As a human being, you exemplify everything that all of us want to be," said board member Marlys Davidson. "So, if you ask me to do something, I want to copy you, follow up and learn from you so thank you."
Tanya then gave a shout out to her husband Josiah Doby and his brother who "lit up" the football field for Los Alamitios High School in the late 1990's.
"I know that it's true that if you ask Tanya to do something, she will absolutely say yes, it's the only word that she knows [that will] come out of her mouth. And I just have always appreciated you and the joy that you bring to everything," said Board President Diana Hill.
"Tanya, you just are an exceptional human being, a role model for all of us," said Dr. Andrew Pulver, Superintendent of the Los Alamitos Unified School District. "You just have a presence about yourself that has a light, a glow, really that is infectious and lifts everyone up," he said.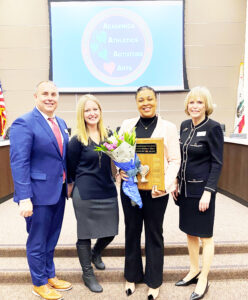 "I don't know of another individual, quite honestly, who as soon as you see her, she brings a smile to your face, a warmth to your heart and you always find the good in everything," he said. "I'm sure that can be challenging at times," he said.
"Thank you for always finding good and I know that there's nothing Tanya will ask you to do that she is not willing to do herself," said Pulver. "We are so proud, and this is well deserved."
"I'm so honored, I'm so humbled," Doby said. "Thank you…thank you for anyone that's ever helped me. Thank you, for anyone that's ever believed in me. Thank you, for anyone that's ever lifted my head when the crown got a little heavy. Thank you, for anyone that's ever partnered with me. Thank you for anyone that's ever helped me."
"I just I appreciate it all and I am truly honored," said Doby. "This means more than I have words for."