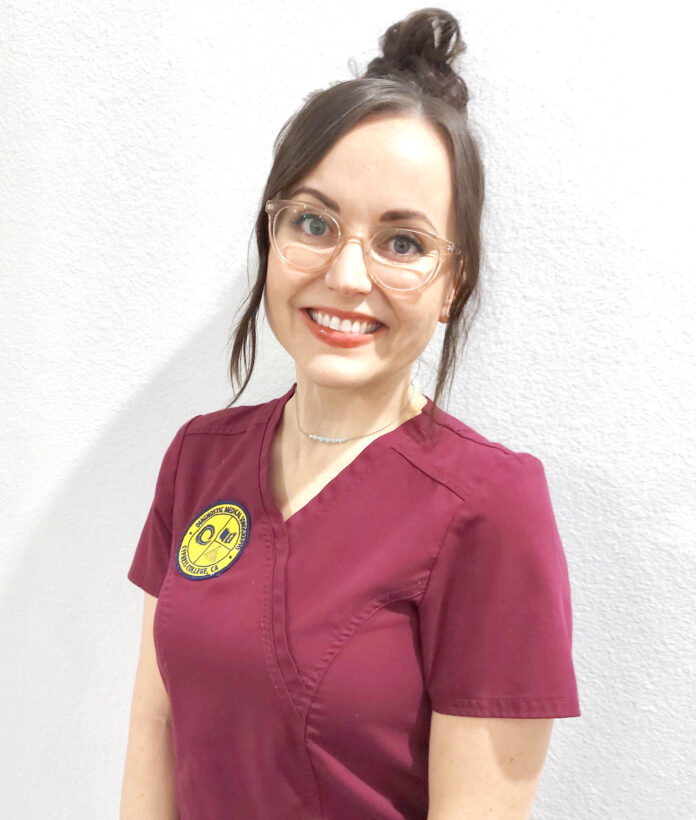 Cypress College Diagnostic Medical Sonography (DMS) student Megan Park was one of only two recipients in the nation to receive the Society of Diagnostic Medical Sonography (SDMS) Foundation Sonography Student and Advanced Degree Scholarship, earning $2,500 to use toward her tuition, books, and educational fees.
Although Megan is committed to her education, she was unaware of the challenges she would face and overcome while working toward her degree. As a member of the first DMS cohort at Cypress College to be fully impacted by the effects of the pandemic, adapting to online courses and previous clinical training typically provided to students, Megan's determination and ultimate success through her first two semesters speaks volumes of her dedication to the program and her future patients.
Lynn Mitts, program coordinator for DMS, said clinical training and on-campus courses allow students to connect what they have learned in the classroom to what they have learned in clinical settings. Students must be serious and hardworking to do well in this program due to the sheer amount of learning material, Mitts said.
"Megan has already overcome many obstacles to make it to the halfway point of the program," said Mitts. "This scholarship only proves her dedication as a student, and to the field she is entering. She has demonstrated great commitment and hard work. We are very proud of her."
"I admire Megan and her determination," Dr. Stephen Schoonmaker, interim dean of Health Science, said. "I am also proud of our committed faculty in the Health Science Division and for the creative and dedicated work of the faculty in Diagnostic Medical Sonography. They have overcome tremendous obstacles during this global pandemic to help students like Megan gain the necessary knowledge and skills to become a successful and positive part of the healthcare sector – and for their contributions to the communities we serve."
Cypress College's DMS program is ranked number one in the state for the second year in a row by NursingProcess.org. DMS students are prepared for the American Registry of Diagnostic Medical Sonography examination and hospital or clinical employment upon completing their coursework. Students receive practical training in general sonography (or ultrasound) on superficial structures, the abdomen, pelvis, and obstetrics.
To learn more about the DMS program at Cypress College, visit https://careers.cypresscollege.edu/programs/diagnostic-medical-sonography/.
About Cypress College:
Cypress College offers students a pathway to their future in an environment in which employees commit to joining students on their educational journey. The college's half-million-plus alumni include actors, athletes, doctors, executives, mechanics, nurses, and teachers. For some, Cypress College is the ticket into their university of choice, and for others, it provides essential training for a prosperous career.
Cypress College is one of three campuses in the North Orange County Community College District and a member of the 116-campus California Community College system. The college primarily serves the cities of Anaheim, Buena Park, Cypress, Garden Grove, La Palma, Los Alamitos, Seal Beach, and Stanton.
Students can access support services online at http://cypresscollege.edu/coronavirus.