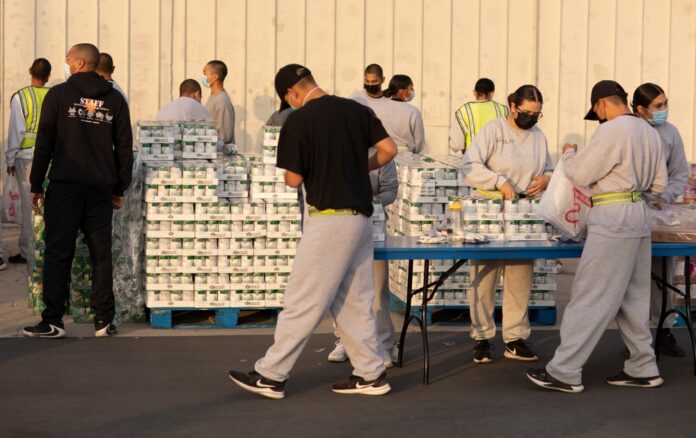 By Staff Sgt. Crystal Housman
California National Guard Public Affairs
For the Event-News Enterprise
Such is the case this week in Orange County, after a helping hand from cadets at Sunburst Youth Challenge Academy provided approximately 1,000 families with food this holiday season.
In the span of about 90 minutes at Joint Forces Training Base, Los Alamitos, academy cadets packed 1,000 holiday meal kits full of canned goods and side dishes to support the Orange County Basket Brigade, which will distribute the kits with frozen turkeys to families in need for Thanksgiving and the holidays.
"It feels good giving back to the community and helping people out," said Cadet Bryanna Rocha, a squad leader with Firehawks Platoon, as she placed box after box of chicken broth into grocery bags her classmates carried through the meal kit line.
As more than 100 cadets looped through the chicken broth station, Cadet Angel Torres, a squad leader with Wolfpack Platoon, said the community service event hit home.
"Knowing that we're helping families means a lot, because it could be our family that needs this," Torres said.
U.S. Army Spc. Timothy Gooden, a cadre member who works with Chargers Platoon, hoped his cadets took time to absorb the impact of their actions.
"A lot of them have come from places that they did pick up food like this, so they can kind of relate," Gooden said. "I hope they take away from this that doing community service and helping out your fellow man and helping out people in the neighborhoods you grew up in, there's always a way to give back."
"They were on the other side of that," Gooden said, "and now they can realize the good that other people did and how they're doing the same good."
Now in its 22nd year, the Basket Brigade is a volunteer effort coordinated by The Tony Robbins Foundation to spread holiday spirit and provide Orange County families with the means to celebrate Thanksgiving.
Packaging the meal kits for the brigade is the latest in a series of community service projects completed by Class 28 since they arrived to Joint Forces Training Base, Los Alamitos, this summer.
In October, the class spent three days on Catalina Island helping the staff at Scouts BSA Camp Emerald Bay clear brush, break down tents, and prepare the camp for its winter shutdown.
Service to Community is a core component of all National Guard Youth Challenge Programs. Sunburst is one of three such programs throughout the state.