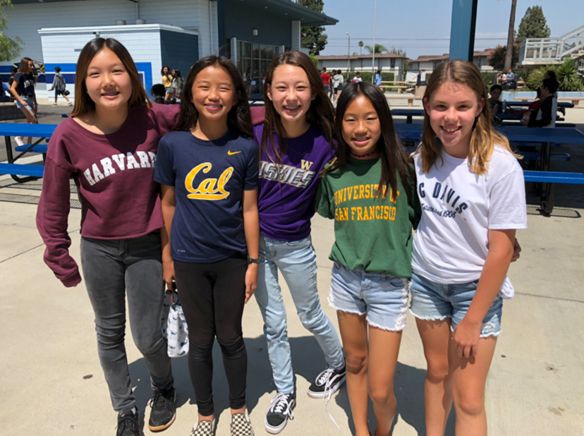 Fifth-grade boys facing off near the lunch tables might be cause for worry. But a look at their UCLA and USC shirts—and their smiles—reveals they are just having fun on College Day in the Los Alamitos Unified School District.
College Day — held the first Wednesday of each month at all district schools — is part of an effort to make kids aware of college and its potential from an early age and to help them think about it as a gradual process.
"It's about talking with students of all ages about the path to college, breaking down barriers and inspiring children to pursue higher education," said Ondrea Reed, the district's Assistant Superintendent for Educational Services.
On a strictly fun level, the district promotes college awareness through clothes. On College Day, kids and school staff are encouraged to wear college apparel and pose for pictures.
On a more serious level, the district provides age-appropriate resources for teachers to use in talking to kids. Younger elementary students might watch a short video entitled "What is College?"
"At the PK-5 level, we are hoping to connect student thinking to the job or career they hope to pursue when they are 'grown-up' and the level of college education that is needed for that occupation," Reed said.
Middle school students, on the other hand, might watch a video that explains the University of California and California State University requirements for courses in English, mathematics, science, electives, language, and social science or another that makes the connection between a college education and various careers.
Students at Los Alamitos High School are served by counselors who meet individually with students to help them choose and apply to colleges. In addition, the school's College and Career Center hosts a series of College Night presentations through the year. A recent session focused on how to choose potential schools. Future sessions will deal with topics such as financial aid and writing application essays. The sessions are recorded and made available on the school's website.
The College and Career Center also hosts about 50 visits a year by college representatives; one group of about 30 students recently heard a presentation by Chapman University in Orange. In the Spring, students visit the campuses of local community colleges.
"We incorporate college counseling each year when we complete our registration presentations and individual appointments with students," said counselor Jodi Hutchinson. "It's an ongoing conversation that builds each year. We also offer college application workshops at lunch and after school throughout the month of October and November. We'll meet with students individually for college advisement as well over the course of the next few months."
More than 95 percent of Los Alamitos High School graduates go on to college or post-secondary career training.