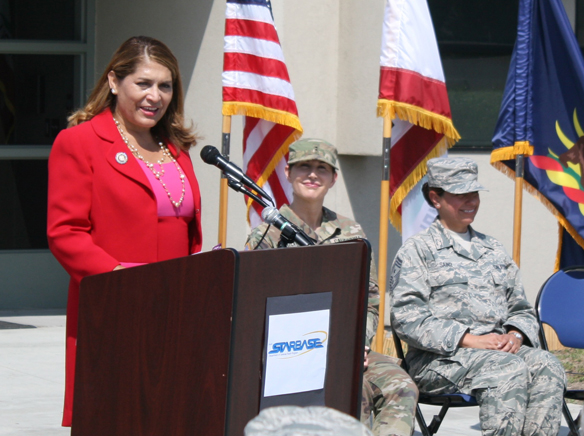 STARBASE Academy held a ceremonial ground breaking for its newest building that will expand the program which offers educational opportunities for area students. Starbase is a Science, Technology Engineering and Math (STEM) program that gives students hands-on, minds-on activities to increase their understandings of the subjects.
STARBASE is a Department of Defense program and the local academy is located on the Joint Forces Training Base in Los Alamitos. The vision statement for the program is to nurture and encourage students to improve their education and skills in science areas that meet advanced technological requirements of government programs within the Department of Defense.
Local Assemblywoman Sharon Quirk-Silva led efforts to secure $1.7 million in funding for a new facility for the academy on the JFTB. On Friday, Quirk-Silva spoke at the ground breaking for the new building, which included a tour of the current facilities.
"We want to make sure our students are prepared," Quirk-Silva said.
Currently, the facilities at the base serve approximately 3,500 students each school year. Primarily fifth graders attend five days of instruction, where they get hands on experience in different subject areas. The new building will allow the program to serve an additional 2,000 students per year.
Initially, the program targeted at-risk children who were underrepresented in STEM program learning. It encouraged students to set goals and achieve them. The first program started in Detroit, Michigan in 1991 and has grown nationally since.
State Senator Janet Nguyen was also in attendance at the ceremony and she noted the impact the local program has already had.
"This program has already proven to change many hundreds of lives," Nguyen said.
The JFTB facility serves children from Orange, Los Angeles, Riverside, San Bernardino and San Diego counties. Students engage in robotics to complete a simulated Mars rover mission, design prototypes on Computer Aided Design and conduct experiments to learn the characteristics of elements, among other subjects.
"As a teacher of over 20 years, I am very familiar with the importance of investing in the future of our children, through education. Investing in STEM education is, and will continue to be, an imperative focus of our state," Quirk-Silva said in statement.
During the tour, fifth graders from Vessels Elementary School in Cypress were in the middle of their five days of curriculum at the academy. The students were doing activities such as constructing rockets with plastic soda bottles, building electronic devises with basic components and working to build safety restraints to protect eggs in test rockets that were crashed into cinder blocks.
Five on-site teachers work with students and their regular classroom teachers on projects as students rotate through the week. On-site teacher, Briana Yancey, nicknamed "Mirco," was working with students who were given basic materials such as cotton, tape, clay strips and plastic bags, as they tried to protect eggs that were strapped to small wooden rockets.
The rockets had hooks that allowed them to slide down wires and collide into cinder blocks. Some of the eggs suffered minor cracks (concussions), while others were completely broken open (sever brain damage). However, within this group, one team's egg survived unscathed. "It's golden!" a student shouted as "Micro" took the egg out of the safety rigging.
Much of the fifth-grade curriculum is a jumping off point for some students who will return as middle school students, for STARBASE 2.0. That program offers students a chance to compete in rocket building competitions during which rockets are launched 856 feet in the air, with the objective of protecting three eggs, as passengers and landing them back down safely.