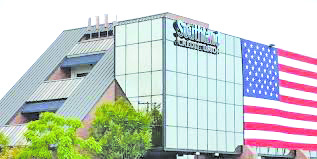 After completing an assessment and survey process administered by Best Companies Group, Southland Credit Union was ranked among 50 top credit unions across the United States as one of the best credit unions to work for in 2020. Credit Union Journal partners with Best Companies Group to publish the annual ranking. Southland Credit Union ranks #26 in the U.S. and #2 in California.
The assessment process includes an in-depth questionnaire, with a review of the Credit Union's benefits, workplace policies and practices. The analysis also includes an extensive employee engagement and satisfaction survey, which provides an opportunity for Associates to offer honest feedback about Southland's corporate culture, environment, leadership, training and other key focus areas.
"We are honored to be included among some of the best-performing credit unions in the nation," Tom Lent, Southland Credit Union President & CEO said. "Our outstanding benefits, recognition programs, wellness programs, community service activities, employee discounts and our quick actions in addressing the COVID pandemic as it related to workplace safety, secured our spot in the Top 50."
Those interested in career opportunities at Southland can view open positions and apply online at https://www.southlandcu.org/connect/careers/.
About Southland Credit Union
Southland Credit Union is a $931 million credit union that serves 60,000 members in Orange and Los Angeles Counties. Branch locations are in Los Alamitos, Downey, Long Beach, Carson, Santa Monica, St. John's Health Center and the Los Angeles Federal Building in downtown Los Angeles.
Operating as a not-for-profit financial cooperative, Southland is dedicated to providing our Members with exceptional, comprehensive and innovative financial solutions, delivered with uniquely personal Southland service. For more information, visit www.southlandcu.org.