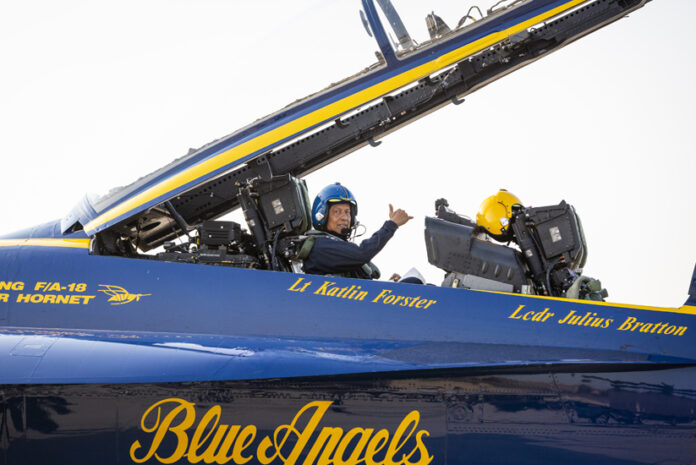 Having been around aviation for most of his life, Ed Valdez knows a thing or two about airplanes.
Yet on this day, he was in awe.
Valdez, who recently retired as a United Airlines Captain, is Chairman of the Aviation and Training program at Cypress College in Cypress, was chosen by the U.S. Navy to receive a Blue Angel demonstration jet ride.
Standing on the tarmac at Joint Forces Training Base in Los Alamitos early Wednesday, Valdez was preparing to climb aboard an F/A-18 Super Hornet.
The F/A-18 Super Hornet is the U.S. Navy's primary strike and air superiority aircraft. Fueled by proprietary software, this $70 million marvel can fly at Mach 1.7 (1260 miles per hour).
Though it can fly at nearly twice the speed of sound, the sleek, composite F/A-18 can land precisely on the tiny deck of a moving aircraft carrier. Armed with turbofan afterburners, the new Super Hornets are marvels of engineering.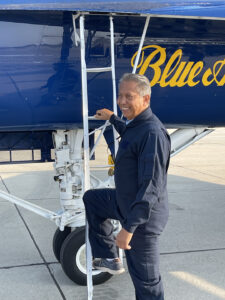 The F/A-18 has proprietary software that provides liquid crystal displays of flight controls and networking that provides pilots with real-time situation awareness and an array of digital tools to succeed in almost any combat environment, according to the Navy.
Staffed by Navy combat officers and other selected crew members, the Blue Angels is a flight demonstration Navy squadron originally formed in 1946. The unit is the second oldest formal aerobatic team (under the same name) in the world, after the French Patrouille de France formed in 1931.
The Blue Angels were in California this week to participate in the Pacific Airshow. Most participating military aircraft, including the "Blues," use JFTB as a secure staging area for the airshow, said base spokesman Col. Richard Lalor.
The Blue Angels are celebrating 75 years of flight in 2021, and in another milestone, this is the first year the Angels fly the upgraded F/A-18 Super Hornets, according to Capt. Eric Doyle, director of the Blue Angels transition.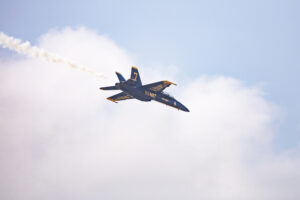 A total of 17 U.S. Navy officers voluntarily serve with the Blue Angels. Each year, the team typically selects three tactical (fighter or fighter/attack) jet pilots, two support officers and one Marine Corps C-130 pilot to relieve departing members, according to its website.
The "Blues" also have a support crew and its own transport plane known as "Fat Albert," (which incidentially made its own cameo in Saturday's airshow).
Though the Super Hornet might appear small in the air, on the ground, a F/A-18 Super Hornet is roughly the size of a tennis court, 44 feet wide and 60 feet long. The officers selected to fly them are highly skilled combat pilots who are selected for a two-year mission of flying only demonstrations, according to the Blue Angels website.
One of those Navy pilots, in Blue Angel #7, Lt. Commander Julius Bratton would fly Valdez into history on this day.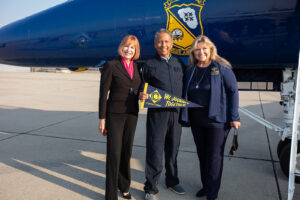 Valdez, surrounded by a gaggle of media and local supporters, first received a pre-flight briefing. He was given a Blue Angel flight suit as instructors explained how to relieve the pressure on his body at Mach 1.2.
In addition, Valdez was taught breathing exercises to adjust his body's rhythm as the jet careened through the sky at breakneck speed.
Several key community leaders came out to the base to support Valdez, including Dr. JoAnna Shilling, Cypress College President, Dr. Kathleen Reiland, Interim Vice President of Instruction, 2nd District Supervisor Katrina Foley and Cypress city council member Anne Hertz.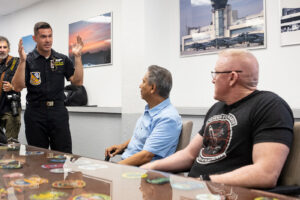 As Valdez was being briefed inside the terminal, Bratton's crew chief and crew were on the tarmac preparing the F/A-18 for the flight.
Lt. Chelsea Dietlin, the Blue Angels public information officer soon led the entire group to the aircraft. As the crew continued its preflight routine on the F/A-18, Valdez stood in front of the aircraft and addressed the large group of supporters and media.
"Ever since I first saw the [Blue Angels] and ever since I can remember, I wanted to fly them," Valdez began. "It was always my dream," he said.
Choking back tears, Valdez said "I've wanted to do this my whole life," he said, "and now I can do it at least once."
Valdez said his dad was in the Mexican Air Force and brought the family to Los Angeles was Valdez was 2. His dad got a job at LAX and Valdez said, "I would go to work with him at the airport," instilling in him a lifelong appreciation of aviation.
Although an officer and cadet in college, Valdez said he was rejected from flying jets in the military for health reasons. "I still remember driving off the base at El Toro thinking that dream is just gone."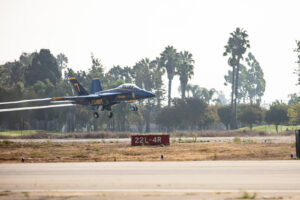 As residents throughout the area witnessed firsthand as the Angels took to their practice runs, there is no mistaking the sound of those powerful jet engines on a F/A-18 as they roar overhead. They slice the air with a sound so pulsating that it trips car alarms.
Such it was as Valdez and Bratton roared down the JFTB runway as onlookers watched from a safe distance. The strike fighter quickly lifted off with Valdez safely strapped into the tandem seat, flew low over the runway before Bratton hit the afterburners and went straight up.
For thirty minutes, Bratton and Valdez flew to the "box," short for the "aerobatic box" that had been designed by the Federal Aviation Administration for the Pacific Airshow in Huntington Beach.
When the F/A-18 finally came back into view over the JFTB airfield, Bratton demonstrated the jet's unique thrust capability that allows the fighter jet to turn almost at a 90-degree angle, yet not lose any altitude in the process.
Back on the ground, Valdez stayed in the jet for a couple of minutes doing exercises to get the blood pumping normally throughout his body. Bratton came down the ladder quickly and said Valdez had performed "great" up in the air.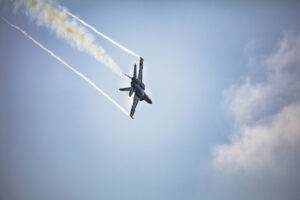 "Okay, I would say in the 99 percentiles, we did everything you can do," said Bratton. He said Valdez neither passed out nor got sick, "but I'm not that surprised." He noted Valdez has flown jets for much of his life.
The Blue Angel pilot said they flew at more than 600 knots (more than 1,000 mph) and pulled 6.3 units of g-force (gravitational pull) on takeoff and more than 7 g's during some of the maneuvers.
"We stretched the limit," said Valdez, noting that the supersonic strike fighter broke the sound barrier, but only over the ocean where it could not be heard onshore.
Although he was mentally and physically prepared for the flight, Valdez said he worked hard to stave off the effects in the air and said almost a week later, "I'm still sore."
At one point, Valdez said he asked Bratton to slow down slightly so he could drink some water.
"During the vertical maneuvers, my mouth was so dry," he said. "It was brutal," he said, telling Bratton "I need water." Other than that, he said, "it was fine."
Valdez said Bratton took the jet through all the normal aerobatics, including corkscrews, split 's', and, at one point, reached 26,000 feet.
In two decades, Valdez' love for aviation has led to the establishment of a groundbreaking aviation department at Cypress College. It has become a formidable resource for the burgeoning U.S. aviation industry.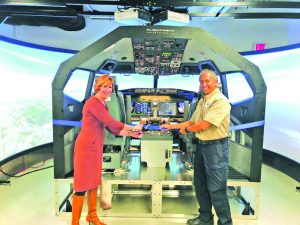 The department now hosts a variety of airplane simulators, including the country's only 737 Max simulator in the country. Many of his students now fly passengers and freight around the world for major airlines.
For Valdez, he hoped this ride would serve as an example for his students.
"This is something I wanted to do since I was a kid. There were always roadblocks, but you knock them down, keep going. Don't give up. And that's what I see in our students, you know, don't give up," he used as an example to his students.
"I always kind of think it's the destination that is important," he continued, but your path to that destination, you know that's as important, that's your life," said Valdez. "Enjoy that journey."
"The bad times are the ones that make the good times," he said, "the bad times are where you grow…where you get stronger. And, you know, eventually you'll get to your destination," he said.
Asked earlier about being considered a Blue Angel VIP, Valdez shrugged and said he did not consider himself a VIP at all.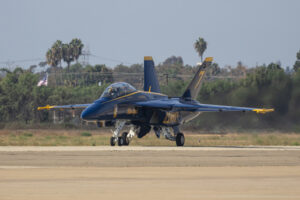 "I'm always putting one foot in front of the other, just trying to do what I can to help the students," said Valdez. "So, I don't ever really see myself as a VIP, I just see myself as a mentor, as someone that can help, you know, as a kid they come to us and they have this dream."
He dedicated the event to his wife Aimee and their two daughters, Jacqueline and Kate. "They put up with different times when I had to work," he said. His wife Amy, he said, "she really helped me get to where I am."
His family was part of the large group of Cypress Colleges supporters assembled on the tarmac to witness Valdez's aerial excursion.
Following the flight, Bratton presented Valdez with a large, framed photo of the Blue Angels in flight. It is signed by Navy commanders and pilots of the Blue Angels, making Valdez an honorable "Blue Angel."
"This is what I want to get across to the students," said Valdez. "One day, 21 years from now, you can be here. Yes, you can definitely be here one day. Don't give up."
Valdez said later that he learned a student he taught 21 years ago is now the commander of an F/A-18 Super Hornet squadron.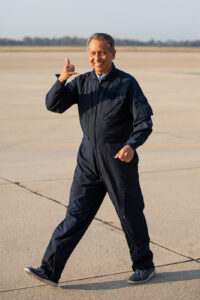 For Valdez, it was a crowning moment from an illustrious career as to fulfilling the same message he was sending to students.
"I just, I feel very, very humbled and blessed that I got this opportunity. So, you know, God gave me what I wanted to do," he said, "but now I know the meaning of 'surreal.'
"Never in my wildest dreams did I think this day would come," said Valdez. Dreams do fly high and as Valdez learned, they still do come true.