Local officials are watching a massive oil spill off the California coast which prompted the cancellation of the third day of the Pacific Airshow, and also prompted Huntington Beach Mayor Kim Carr to warn of a potential "environmental catastrophe."
More details became evident this week, including that the spill actually occurred Friday evening and the public was not notified until Sunday.
Ironically, while aviation experts on ABC7 were calling Saturday's air show perhaps "the greatest airshow in the world," there was a growing petroleum menace under the surface that only authorities were aware of until Sunday morning when nearby beaches were closed.
More than 1.5 million people crowded those same Huntington Beach beaches on Saturday to experience the dazzling air show. Authorities decided to cancel the show on Sunday, however, as oil began to lap up onto the beaches.
In the wake of the disaster, there are renewed calls to stop offshore drilling altogether as the Pacific Marine Mammals Center and others rushed to save affected wild and sea life.
California Congressman Mike Levin has introduced the American Coasts and Oceans Protection Act to prohibit any new leasing for the exploration, development, or production of oil or natural gas along the Southern California coast, from San Diego to the northern border of San Luis Obispo County.
Levin toured the area via helicopter along with 2nd District OC Supervisor Katrina Foley.
Foley, who also appeared with the U.S. Coast Guard at a press conference, said "we are deeply concerned by this weekend's major oil spill along our beautiful Orange County coastline. The ramifications will extend further than the visible oil and odor that our residents are dealing with at the moment. The impact to the environment is irreversible."
"We must identify the cause of the spill, and for the greater good of our cities, beaches, and coastal ecological habitat we need to understand how to prevent these incidences moving forward. Our beaches are an integral part of our culture and economy, popular tourist destinations, and a California staple," added Foley.
State Sen. Tom Umberg toured the Bolsa Chica wetlands and, like other officials, expressed concern that significant damage had been done.
"First and foremost, we absolutely must focus on mitigating damage to environmentally sensitive and hard-to-clean sites (i.e. marshes, rocky areas, sandy beaches) and cleaning up this mess before it escalates and impacts public and wildlife health," said Umberg.
"It saddens me to see oil now reaching the beautiful shores of Huntington Beach State Beach but I'm appreciative of the swift action being taken to mitigate the impacts as quickly as possible." said Assemblymember Janet Nguyen in a press release.
On Monday, South Coast Air Quality Management District (SCAQMD) officials said they deployed mobile air quality monitoring systems along the coast after some Orange County residents expressed concern after smelling what appeared to be asphalt in the wind.
Gov. Gavin Newsom on Tuesday declared a major disaster and said the oil pipeline leak off Huntington Beach has already been shut off.
Locally, residents are very concerned while keeping a wary eye on the burgeoning oil disaster, though no impacts have yet been felt.
"Currently there exists no water quality threat in Seal Beach as currents continue to pull south along the coast. As a result, beaches will remain open in Seal Beach at this time. Should conditions change, the City of Seal Beach is prepared to close beaches and begin mitigation efforts to protect our shores," said a press release issued by the City of Seal Beach.
It also said the City of Seal Beach will continue to support the U.S. Coast Guard, the Cities of Long Beach, Huntington Beach and Newport Beach, the County of Orange, and other partner cities and agencies.
According to a statement from the city of Huntington Beach, 126,000 gallons of oil in a plume nearly six nautical miles long, now lingers off the coast between Newport and Huntington Beach, "with substantial ecological impacts."
In a letter to President Joseph R. Biden, 48th District Congresswoman Michelle Steel has asked for a major disaster declaration.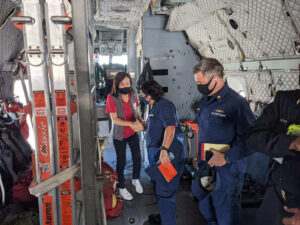 "I write today asking you to authorize a Major Disaster declaration for Orange County, California following the oil spill that occurred off the coast of Huntington Beach on October 2, 2021. Officials have estimated that over 130,000 gallons of oil have leaked from an underwater pipeline. I request fast action in approving the Public Assistance and Individual Assistance for all the cities and counties in California that will be affected," she wrote.
Congressman Alan Lowenthal, who represents the 47th District adjacent to Steel's, also issued a statement.
"This oil spill off the coast of Orange County is as tragic as it was preventable. This environmental catastrophe highlights the simple fact that where you drill, you spill. As we are sadly witnessing, when you drill along the coast, when you pipe that oil ashore, our coastlines will bear the brunt of the impacts from such spills," said Lowenthal.
"This will be devastating not only to our marine wildlife and ecosystem, but also to the livelihoods of our coastal communities which are built around fishing, tourism, and recreation. As long as these platforms and pipelines remain, our coastal communities remain under threat from potential disasters like we are now seeing," he added.
Meanwhile, Mayor Carr said federal, state and local officials are coordinating mitigation and cleanup efforts along the coast.
"The US Coast Guard is the lead agency coordinating the response to the oil spill incident, and the investigation into how the spill occurred. Based on the most current information available, while the leak has not been completely stopped, preliminary patching has been completed to repair the oil spill site. Additional repair efforts will be attempted in the morning. As additional details become available from the US Coast Guard, we will pass that information along," she said.