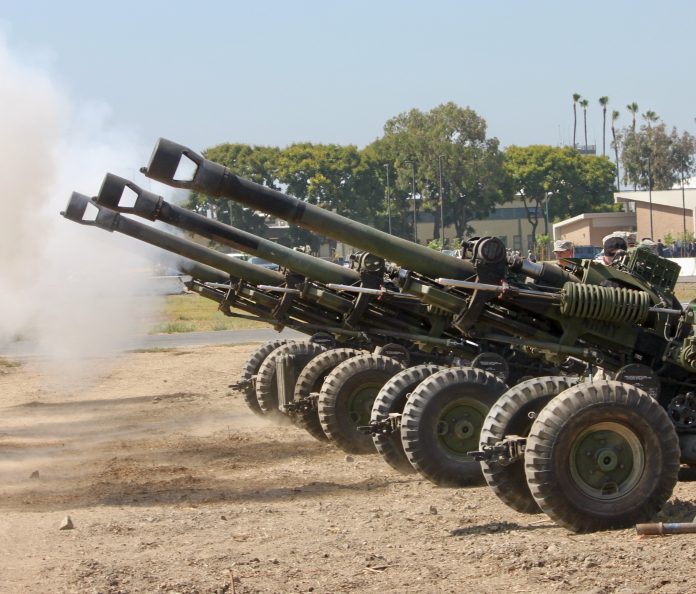 The sound of artillery fire will echo across communities surrounding Joint Forces Training Base (JFTB) on Saturday, May 15, commemorating the change of command of the California Army National Guard's 100th Troop Command.
The traditional artillery salute by three M119A3 howitzers of the Cal Guard's Bravo Battery, 1st Battalion, 143rd Field Artillery Regiment, will highlight the formal ceremony at which Col. Zac Delwiche will relinquish command to Col. David M. Church.
The ceremony will get underway at 10 a.m.
Test firing of the artillery will take place Saturday morning between 8 a.m. and 9 a.m. in conjunction with ceremony rehearsals.
For additional information, please contact Col. (CA) Richard Lalor at (562) 795-2096 or via email at richard.w.lalor2.nfg@mail.mil, or Staff Sgt. Crystal Housman at (805) 458-3825 or via email at crystal.c.housman.mil@mail.mil.
Also, U.S. Marine Corps aviation units will be utilizing Los Alamitos Army Airfield (LAAAF) from Tuesday, May 11, through Sunday, May 16, for training exercises utilizing MV-22B Osprey tiltrotor aircraft and CH-53 Sea Stallion helicopters, base spokesman Col. Richard Lalor has announced.
Residents of communities located near Joint Forces Training Base may hear the sound of these aircraft arriving and departing the airfield. The majority of flight operations will take place during published tower hours. However, some flight operations may occur outside regular hours, he said in a statement.
These operations are part of a large composite training unit exercise of the 11th Marine Expeditionary Unit (MEU) based at Camp Pendleton. The exercise replicates deployment operations of an MEU and is designed to enhance the integration and collective capabilities of the 11th MEU, while providing the opportunity to conduct realistic ship-to-shore training.
Efforts will be taken to minimize inconvenience to our neighbors.
For additional information, please contact Col. (CA) Richard Lalor at (562) 795-2096 or via email at richard.w.lalor2.nfg@mail.mil, or Staff Sgt. Crystal Housman at (805) 458-3825 or via email at crystal.c.housman.mil@mail.mil,