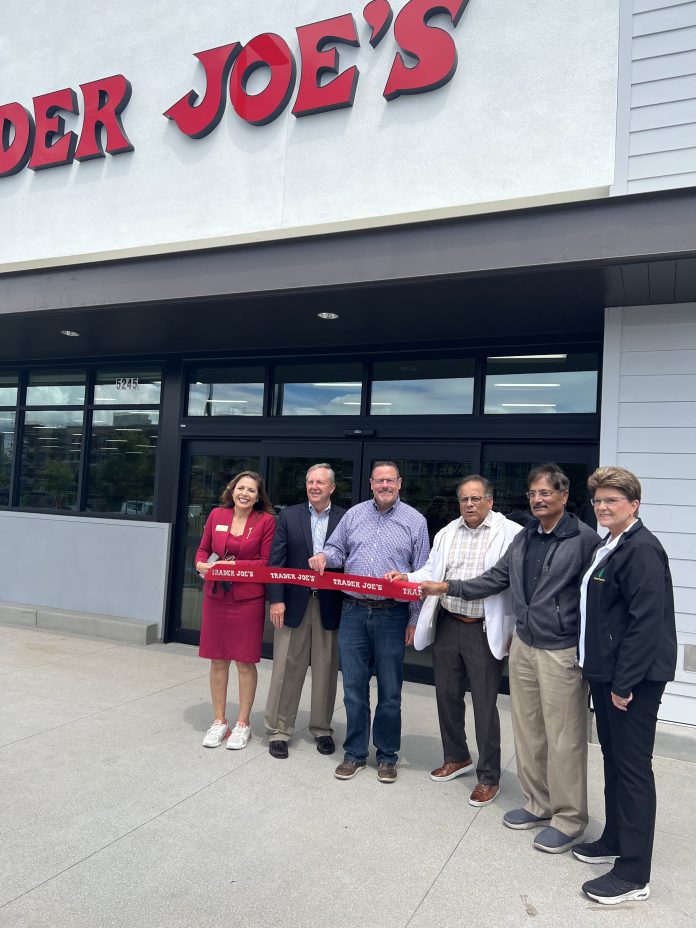 The Cypress (Rossmoor) Trader Joe's opened this week, as shoppers gathered early May 5 to shop at the long-awaited grocery franchise.
Local Cypress officials, including current and former Council members, gathered at the new store, located at 5245 Katella Ave., the night before the store opened, to officially cut the ribbon.
The project, being developed by Shea Properties, is part of a multi-purpose development that is being constructed on a 13.3-acre tract that the city sold to Shea in 2020 under the previous administration.
Those gathered included City Council members Bonnie Peat and Frances Marquez, former Council members Jon Peat, Paulo Morales, and Dr. Prakash Narain.
Trader Joe's issued a statement on its website about the new store.
"At Trader Joe's Cypress (Rossmoor), we see ourselves as your neighborhood grocery store. Step inside and you'll find unconventional and interesting products in the Trader Joe's label like Mandarin Orange Chicken and Cold Brew Coffee Concentrate, as well as everyday basics like milk, eggs and fresh produce," it said.
"Most importantly, we offer all our delicious, quality products at the very best prices. We're happy to be part of the community and proud to offer you unique products and an exceptional shopping experience, every day.
According to the site, Trader Joe's will be open seven days a week, from 8:00 a.m. until 9 p.m.
The popular store replaced a proposed theater in a development plan that enveloped a previous city council in controversy when a pandemic vote of 3-2 awarded a prized parcel of city land to the development company at what some residents termed at the time to be a bargain price.
Then Mayor Rob Johnson, along with council members Jon Peat and Paulo Morales, however voted for both motions to allow the go-ahead, while Mayor Pro-tem Mariellen Yarc and council member Stacy Berry voted against.
Despite a higher offer from Los Alamitos Racecourse owner Ed Allred, the Cypress Council voted to sell the prized track to Shea Properties for $15.25 million and by the same 3-2 vote awarded Shea a refund of $1.47 million for approximately 25% of the amenities they had proposed to bring to the project.
Millennials looking for "better housing solutions" and citizens like the former mayor and businessman Tim Keenan, who said then that the City Center development would be "a great project for the city" were supportive, while others suggested suggested that a pandemic was not the time to move forward.
Despite the controversy, the project moved forward and the three former city council members who voted for development were on hand with current Council members to cut the ribbon for Trader Joe's on May 5.