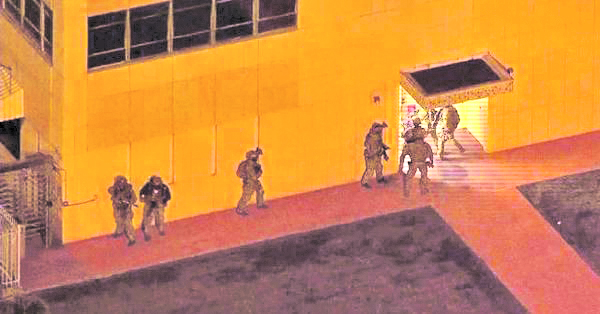 By David N. Young
Even though the Joint Forces Training Base in Los Alamitos tried desperately to get the word out to the community in advance, training exercises that brought helicopters and special ops forces to Los Angeles and Long Beach prompted a flurry of television and online speculation last week.
According to a JFTB press release issued before the training, "a visiting U.S. Army aviation unit will conduct training exercises and night flight operations at Los Alamitos Army Airfield (LAAAF) from Feb.3 thru Feb. 9."
According to the release, the exercises were designed to maintain overall operational readiness and proficiency of the aviators and support personnel and will include periods of increased air traffic.
Further, the release warned residents living near Joint Forces Training Base may hear aircraft arriving and departing outside of normal airfield operating hours and increased aircraft noise during the hours of darkness throughout the training period.
While citizens of Los Al may have been prepared for the night flying activity, citizens of Los Angeles and Long Beach were, on separate nights, apparently surprised and startled when U.S. Army Blackhawk helicopters flew in formation before descending on Wilshire Boulevard and other locations.  Citizens immediately took to Twitter and television as troops initiated what appeared to be special forces missions.
A twitter user identified as Bjam, said "now, I'm not a conspiracy theorist nut, but this was genuinely weird. I was woken up by helicopters & explosions in the middle of the night in one of the most densely populated areas of the city. With no prior notice at all 'Military Exercises' Okay sure."
The furor was so great that it made several live television newscasts as The Los Angeles Police Department and the newscasters had to repeatedly remind citizens that this was ONLY a drill.
In some cases, the sophisticated training involved concussion explosions and troops making building entries, etc.
According to an LAPD press release, "each location selected enables special operations teams and flight crews to maintain maximum readiness and proficiency, validate equipment and exercise standard safety procedures. The training is essential to ensure service members are fully trained and prepared to defend our nation overseas."
Despite officials best attempts to notify residents, the twittersphere went wild with speculation, with users erroneously claiming they were raiding certain businesses, while others expressed fear with the low flying copters and the troop activity.
According to KTLA, the troops spent two nights with low level activity and mock drills in downtown Los Angeles, then moved to the Port of Long Beach for another simulation the next night.
According to LAPD and JFTB, the training was designed to give the military night training in urban environments and settings.
Officials said the Los Angeles and Long Beach terrain provided unique environments that simulates those when troops will be deployed overseas. All available safety and notification measures were deployed as part of the training, authorities said as the training apparently concluded without incident.
Courtesy photo