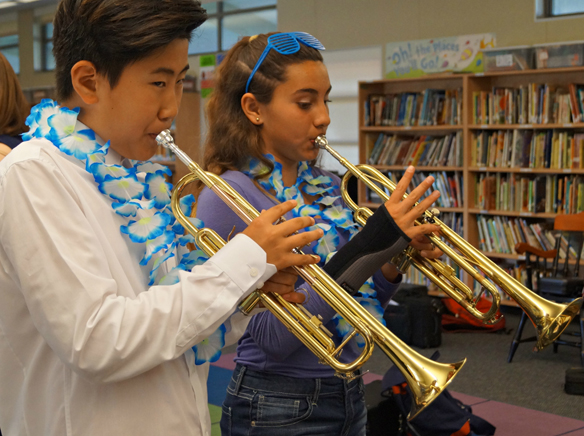 The Molding Musicians program held its program-end performance in the auditorium of King Elementary School in the spring.
In this free program sponsored by Boys & Girls Club of Cypress, 5th and 6th grade students from both Clara J. King and Steve Luther Elementary Schools are taught to play instruments by volunteer high school instructors from Kennedy and Cypress High Schools. The program is offered to students free of charge and many families receive assistance with instrument rental.
This year, twenty-five high-school students taught forty elementary students to play their choice of instrument; instruments taught were flute, clarinet, saxophone, trumpet, trombone, guitar, piano, and violin. Each instrument group performed at least one piece in a concert for family members and friends. At the end of the concert, all Molding Musicians students received a special medal and the outstanding volunteer teachers received a special certificate.
The Molding Musicians program is supported by the Boys & Girls Club of Cypress and Jacki Teschke, Principal of King Elementary School. Mrs. Teschke said, "King Students and parents are grateful to the High School volunteers who teach our children how to read music and play an instrument that they may not have otherwise had the opportunity to play. It was truly impressive to observe how much the students learned this year and how well they performed during their concert in April."
This year's program received financial support from the Jane Deming Fund grant program of the Orange County Community Foundation.
For more information, stop by the Boys & Girls Club of Cypress at 10161 Moody St. in Cypress, call 714-527-2697, or visit the website at www.bgccypress.org.