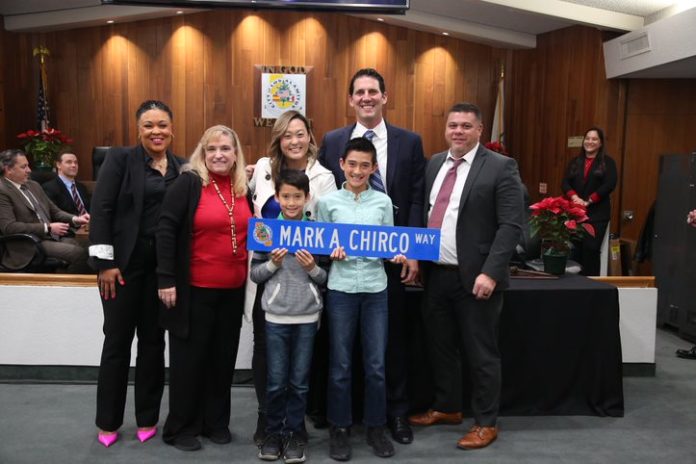 Holding back tears, outgoing Los Alamitos city council member Mark Chirco said his final goodbyes to his colleagues on the dais as family and supporters looked on during the city's final meeting of 2022 in December.
Chirco, an attorney, surprised many by his announcement last year that he would not be seeking a new term. He was appointed by the Council to a vacancy in 2017, then won a full term in the 2018 general election and was eligible for another term. Nevertheless, Chirco said in five years, he was able to work with the members and staff to achieve some major accomplishments.
"It's been five years since I was first appointed to the city council," said Chirco. "A lot has changed in our world since that time, and a lot has changed in our city."
When Chirco came onto the Council, the City of Los Alamitos was in dire financial straits, having run up, like other cities, a huge pension debt. Without proper revenue, the city had been making cuts and at times, found staff members two jobs at the reduced pay of one to keep the city going.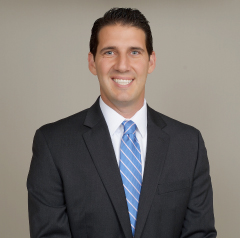 Chirco and Mayor Shelley Hasselbrink attached themselves to a budget standing committee to find a path to financial sustainability and made it their mission to reverse the trend. With the passage of Measure Y in 2020, the city has indeed turned its financial fortunes around.
"Despite all the challenges to local governments over the last few years, we were able to achieve an incredible number of successes," he said, "in large part thanks to our city staff and the productive relationships that we can have on the council. Some of the things I'm most proud of included, obviously our pension pay-down plan (announced two months ago). That's one that I was really focused on for a long time."
"We've been able over the year to function amicably and productively, taking the business of governing seriously, while not taking ourselves too seriously," he said.
Chirco thanked Hasselbrink, City Manager Chet Simmons and Finance Director Craig Koehler, along with staff and the whole council for achieving the pension solution.
"So we went from having dire financial straits that really being in a really positive future financial outlook. We had a balanced budget all five years, thanks in no small part to Mayor Hasselbrink's work on the budget standing committee," said Chirco.
"We've staffed our police department, we finally realized new contracts for city employees.
When I was mayor, we were able to approve a new trash hauler contract which saved our residents and businesses more than $12 million. We supported the creation of a veteran's cemetery in Orange County. We implemented a Los Al Bucks program which is the envy of many other communities," he added.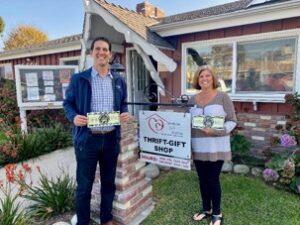 "We added license plate readers at various points in the cities to increase public safety. We contributed to helping hundreds of people experiencing homelessness move into transitional housing," said. He also lauded Simmons for hiring Police Chief Michael Claborn, among many other accomplishments.
"Most importantly, we restored faith in our residents that local government can achieve incredible things if they act selflessly, rationally, and together in the best interest of the community. The community is wonderful in so many ways," he said.
"But as far as our city goes, a lot has changed, mostly for the better in my opinion," he said, noting that such accomplishment can only happen "as a result of the collaboration among the city staff who I always acknowledge, do the really hard work of the city," he said.
"Although we (Council members) oftentimes get the glory for it," said Chirco, the city's elected officials benefit from the wonderful things done by staff behind the scenes.
"I want to say thank you to staff, and my colleagues on the city council. It's been an absolute pleasure to work with all of you. We've had some disagreements, but we've gotten through it," said Chirco, adding that "we've always been able to move forward in the best interests of the city."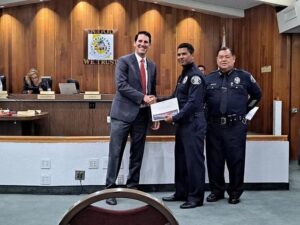 "Sometimes we're faced with really difficult decisions and it's hard, especially for someone like me who's a people pleaser. I want to make everybody happy. And in this position, you really can't make everybody happy. You just try to do the best that you can," said Chirco.
Hasselbrink said "working with you on budget and finance has just been amazing. We argue, and then we shake hands and we always do what's best for the city. Despite her own personal preferences. So I'm looking forward to you being able to spend time with your wife and kids."
"We're going to miss you," she said.
In addition, Hasselbrink and the Council presented numerous gifts to Chirco, and his family, including a Los Al Street sign entitled "Mark A. Chirco Way."
Mayor Pro-Tem Tanya Doby said Chirco's even-handedness was first visible to her when they both served together on the Parks and Recreation Commission. "You always made it easy," said Doby. She said Chirco's seamless ability to find compromise carried over to his work on the Council, saying the Los Al Council is something special.
"And then when you go to other cities, they do not have what we have," said Doby. "We have excellent staff. We got some good people and you're a significant part of that," she said. Doby also presented a gift to Chirco's wife Shana for her support for city events with her husband.
Council member Jordan Nefulda thanked Chirco for encouraging him to serve on a city commission and then encouraging him to apply when the district 3 seat opened. "You always seem to be in a good mood and sometimes we come in here, it's tiring, and you just bring us up. Thank you for your service," said Nefulda.
"Mark Chirco is exactly what you would hope for in an elected official. He is smart, inquisitive, and is always looking for a way to make the City better. More often than not, he would find a way to incorporate everyone's ideas in the final product. He has always been committed to the idea that it does not matter where we land on the political spectrum. Los Al is stronger if we are working together," said City Manager Chet Simmons.
Chirco said leaving was "painful" because "I genuinely like all of the people I've been working with the past few years." The outgoing Council member said, "(former mayor) Richard Murphy cried when he left the city council so I'm tearing up but not yet at the crying part."
Chirco said Los Alamitos is such a wonderful community that he sometimes had to pinch himself to remind himself that he had the honor of serving the community.
"Thank you to the residents and businesses for allowing me the honor of representing this fine city," said Chirco. "Another favorite memory of mine is during my time on the council in July of 2021. I'm just walking around at the (JFTB) base, it's a beautiful day, you know, patriotic music playing as I was walking around thinking, how did I get to live in this awesome area, this awesome community?"
"And only then I remember that I'm also the mayor," he said. "That's cool too. It's been an absolute honor to serve our residents."
Chirco issued a special thanks to his parents, in-laws, wife Shanna, and sons Anthony and Luca for being so supportive. Chirco said he promised his two young sons that he would tell no fewer than two "dad" jokes in his final public address, which he did.
All the same, Chirco said the boys "have told me they're happy that I'll have a bit of extra time for them."
"You know, I remember when I first interviewed for the council, I said, I wasn't born in Los Alamitos, but I got here as quickly as I could. Now, I couldn't imagine living anywhere else."