At its January 10th, 2023, meeting, the La Palma City Council recognized Police Officer/School Resource Officer Gary Wilson as the 2022 Employee of the Year and Sergeant Josh Garcia as the 2022 Supervisor/Professional Employee of the Year.
Officer Wilson was hired in April 2018, as a Police Officer, and was assigned as La Palma's School Resource Officer (SRO) in 2019. As a School Resource Officer, he supports and facilitates the educational process within all five schools here in La Palma by providing a safe and secure environment.
Now in his fourth year as SRO, he has created a collaborative support environment by building and establishing meaningful relationships with school staff, students, and parents. Officer Wilson played a large role in facilitating the two-day 2022 Every 15 Minutes program focusing on high school juniors and seniors by challenging them to think about drinking, driving, personal safety, the responsibility of making mature decisions and the impact their decisions have on family, friends and their community.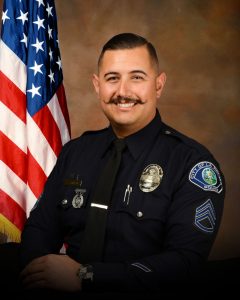 Sergeant Garcia joined the La Palma Police Department in 2012 through an internship opportunity. A couple months later, Garcia was hired as a Police Service Aide. He served in this role for a brief period and departed in 2013 to attend the police academy. Garcia returned to the Department as a sworn officer in July 2015.
Since, Officer Garcia has held many positions in the Police Department prior to his promotion to Sergeant in November 2021. As a Sergeant, Garcia supervises multiple employees, manages shift schedules, manages reports/investigations, coordinates events, and even handles calls for service.
The City of La Palma thanks and congratulates these dedicated public servants for their service.
The City of La Palma's Employee of the Year program recognizes those who show outstanding job performance, make significant contributions to the work environment, and maintain high standards of personal conduct.