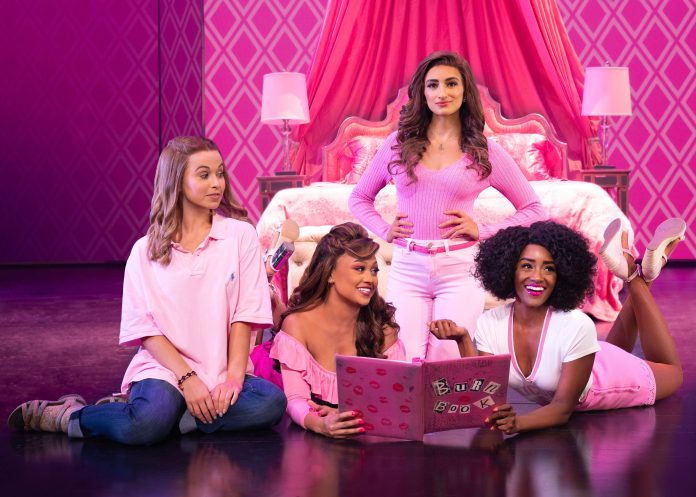 Let's face it, Tina Fey was on to something when she wrote "Mean Girls."
Fey's genius in writing "Mean Girls" lies in her ability to accurately capture and satirize the social dynamics of high school life.
Moreover, "Mean Girls" tackled important issues such as bullying, cliques, and peer pressure, issues not typical to teen comedy in the early 2000's. Artfully capturing the early wave of the digital teen meets social pressure, Fey's script managed to balance humor with a deeper message.
Two decades later, Nadina Hassan says society may have advanced, but pressures are the same.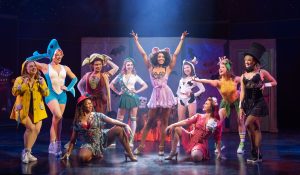 Hassan, 22, was practically straight out of college when she won the prestigious role of Regina George in the current touring live production of "Mean Girls," which opens at the Segerstrom Center for the Arts in Costa Mesa on Tuesday.
Hassan graduated from Baldwin Wallace's Musical Theater program in 2020. Previously, she's landed roles in "Tick, Tick,… BOOM!" (Susan), "West Side Story" (Maria), and "Be More Chill" (Brooke).
"I mean, the story is the same, but there is a lot to accommodate for, like modern-day technology and social media," said Hassan. "Obviously, that's a big thing that the girls in the movie didn't have back then," she said in a phone interview.
"Mean Girls," the musical features a book by nine-time Emmy Award® winner Tina Fey, based on her screenplay for the film, music by three-time Emmy Award® winner Jeff Richmond, and lyrics by two-time Tony Award® nominee Nell Benjamin. Tony Award® winner Casey Nicholaw directs and choreographs.
In addition to Hassan, the tour cast will feature English Bernhardt as Cady Heron, Jasmine Rogers as Gretchen Wieners, Morgan Ashley Bryant as Karen Smith, Lindsay Heather Pearce as Janis Sarkisian, Eric Huffman as Damian Hubbard, Adante Carter as Aaron Samuels, Caleb Mathura as Kevin G., Heather Ayers as Mrs. Heron/Ms. Norbury/Mrs. George., Lawrence E. Street as Mr. Duvall and Adriana Scalice as Standby for Cady, Regina, and Janis.
The producers of "Mean Girls," the record-breaking new musical comedy produced by Lorne Michaels, Stuart Thompson, Sonia Friedman, and Paramount Pictures based on the hit film are excited to announce the First National Tour coming to Orange County at Segerstrom Center for the Arts. The show will be playing in Segerstrom Hall from March 7 – 19, 2023.
"We've updated all that and it's in the musical," said Hassan. "I think it's really important because that is how people in high school communicate these days."
Though it has been adapted for modern life, "Mean Girls" still nag at the same old issues revolving around social pressures.
"Cliques are kind of formed through social media," she said, "and things like that."
"I still think the "Mean Girls" story is so prevalent," said Hassan. "I think that there are cliques like that do exist in a lot of high schools and even in a lot of workplaces," she said, "so even if you're an adult, you can kind of empathize with these characters and see where they're coming from."
Hassan, already an emerging musical theater star, started performing as a child.
"I started performing when I was about 10," she said. "I really wanted to copy my sister, she was in voice lessons so I wanted to do voice lessons."
"Then I just completely fell in love with that and I wanted to continue to do more shows and basically never stopped," said Hassan. What began as roles in middle school, then regular roles in high school productions before landing at Baldwin Wallace (one of the nation's oldest liberal arts colleges)," said Hassan.
Even though the tour production has now completed more than 400 shows, Hassan says she still wakes up surprised to find herself already on such a big stage. And, she said, she loves all her "Mean Girls" friends.
"I love them," she said, adding that "we are so lucky."
"It's my first big job ever, so I really have nothing to compare it to but I do say that Mean Girls cultivates a true family aspect on tour," she said, "and this [is] very, very special. We [castmates] genuinely all really love each other." While on tour, she said, the cast and colleagues are like family, "You are traveling with these people and you're not going home every day to your actual family. So these people become your family. It's really cool."
Hassan's reviews along with the entire cast have been upbeat since the tour began.
New York Magazine calls Mean Girls "HILARIOUS! A smart, splashy new musical that delivers with immense energy, a wicked sense of humor and joyful inside-jokery." Chicago Tribune says "Tina Fey writes FUNNIER, SMARTER, SHARPER satire than anyone else in the business." People Magazine declares the show is "FRESH, FUN AND INFECTIOUS – Jeff Richmond and Nell Benjamin's songs keep the laughs coming!" The New York Daily News raves Mean Girls "TICKLES THE EARS, EYES AND FUNNY BONE – the direction by Casey Nicholaw packs style, invention and red bull-force energy." And Entertainment Weekly proclaims it "A MARVEL: DAZZLING & HILARIOUS!"
The creative team includes Scott Pask (Set Design), Gregg Barnes (Costume Design), Kenneth Posner (Lighting Design), Brian Ronan (Sound Design), Finn Ross & Adam Young (Video Design), Josh Marquette (Hair Design), Milagros Medina-Cerdeira (Make-Up Design), Mary-Mitchell Campbell (Music Supervisor), Chris Kong (Music Director), John Clancy (Orchestrations), Glen Kelly (Dance and Incidental Music Arrangements), Mary-Mitchell Campbell, Jeff Richmond, and Natalie Tenenbaum (Vocal Arrangements), Howard Joines (Music Coordinator), and The Telsey Office / Bethany Knox, CSA (Casting).
Tickets are available at online at SCFTA.org, at the Box Office at 600 Town Center Drive in Costa Mesa, or by calling (714) 556-2787.