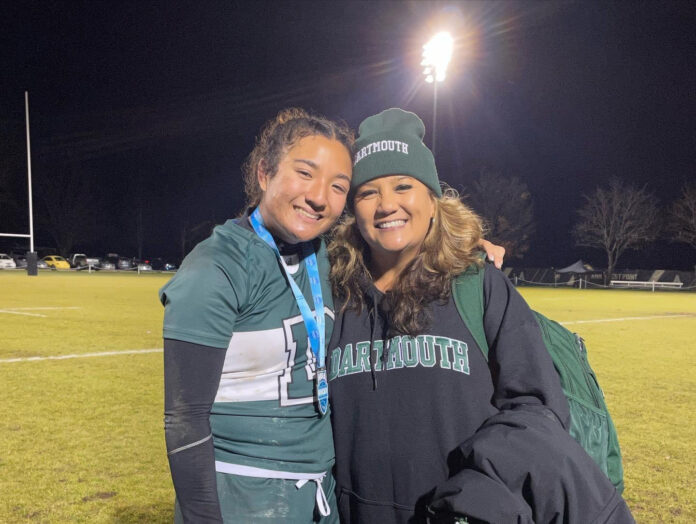 Dartmouth College claimed the 2021 National Intercollegiate Rugby Association (NIRA) Division I National Championship with a 28-18 win against the U.S. Military Academy. Under the lights at Anderson Rugby Complex, the Big Green capped its first-ever undefeated season (9-0) and celebrated its second-ever NIRA trophy.
For a player like hooker Sia Meni – one of two freshman starters for Dartmouth, wing Sadie Schier being the other – it's quite the start to a collegiate career. In addition to spending the first semester of college playing alongside capped USA 7s and 15s Eagles, and international and American age grade standouts, Meni had to learn the ways of the front row. Teammate Lauren Ferridge was huge in that education.
"[She] took me under her wing and showed me the ways of being a forward, specifically a hooker, since I have only ever been a back," Meni thanked the junior prop.
Then of course there was the national final, and those stakes bring their own set of nerves. To boot, the Nov. 20 game occurred on Army's home pitch, under the lights and in front of an animated Black Knights crowd.
"Coming into the game my nerves were really high, especially since it would be our first evening game and I knew the stands would be packed with Army fans," Meni confessed. "The fact that this would also be the biggest rugby game I have played in thus far in my life and I was expected to perform also added to my nervousness. I was confident about the rugby that would be played but the external factors made me very nervous."
That's where Dartmouth's experience took over. Three minutes in, co-captain Emily Henrich raced into the try zone, and flyhalf Abbey Savin, who was perfect off the tee, added the conversion: 7-0.
"As a team we had talked about playing a fast-tempo game and smothering them with our defense," Meni explained. "We did not want to let up, especially coming into the second half. We knew Army would begin to up the intensity coming into the second half and that's exactly what they did. They were really moving the ball and putting our defense to the test."
"Until this morning, when the aches and pains set in, I felt on top of the world," Meni closed. "Now it just feels unreal. I feel like I have just experienced the best-case scenario for any freshman college sports season, which leaves me anxious about the future since I feel like my base expectations of a season are a bit high, but I am certain though that playing with and becoming family with this special group of girls was the real win, going home with a national title was just an addition."