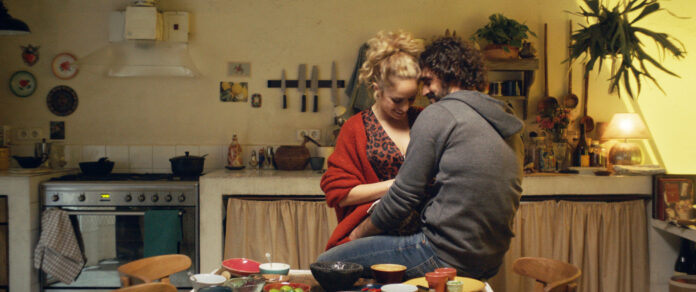 By Lady Beverly Cohn for The Event News Enterprise
F"ISSAC" is the multi-award-winning directorial debut by Angeles Hernandez and David Matamoros from their script written with Antonio Hernández Centeno, based on his stage play "El día que nació Isaac," ("The Day Isaac Was Born.") The story takes us through the lives of two couples – each wanting more in life than what they have.
Two childhood friends meet quite by chance after 20 years. Nacho, well played by Pepe Ocio, is an unhappy, socially connected, successful attorney while Denis, nicely characterized by Iván Sánchez, is a chef who is currently working as a waiter and aspires to own his own restaurant. Nacho is married to Marta, a very frustrated woman, played by Maria Ribera, while Denis lives with a beautiful young lady named Carmen, played by Erika Bleda. Just a short while into the film, we see a flashback of the two friends as young boys playing.
The flashback device is used frequently to keep establishing the backstory of the relationship between these two men, illustrating a lot of horsing around and close body contact. During their meeting, Nacho expresses his disappointment that his wife has been unable to conceive as he very much would like to have a child. Marta, also an attorney, just tolerates their lovemaking, which is basically passionless. As the two old friends talk, they come up with a plan to have Denis' girlfriend act as a surrogate which could be a mutually successful enterprise as the arrangement would give our chef the money he needs to open a restaurant and Marta and Nacho would get to have a child.
Carmen, who works in a dress shop, is not enthusiastic about this arrangement calling it "renting her belly," but Denis convinces her that this is the key to their financial well-being and the fulfillment of his dream. Their lovemaking is passionate and there's that familiar scene of making love in the kitchen amongst pots and pans. A legal contract is drawn up, which is signed by both parties, and the outcome is set into motion. In somewhat of a turnabout, one-night Marta becomes very amorous but is rejected by her husband who turns over and goes to sleep, leaving her lying in bed sexually unsatisfied.
Nacho takes care of his own sexual release himself, seeming to become more and more frustrated because of his hidden truth. Anyway, his sperm is inserted into Carmen and in short order, she becomes pregnant. Warming up to the idea, Marta invites her babymaker to go away with her for a few days, which they do. The two women, whose lives have become intertwined, enjoy walks, chatting, and swinging on swings in a playground. During this period, Denis is staying over at Nacho's beautiful home and in one scene, removes all his clothing, and naked, jumps into the pool.
It is at this moment, that Nacho allows his repressed feelings and desires to spring forward and he, too, gets naked and jumps into the pool where the two men embrace each other as they probably did when they were young boys. Passion has been unleashed which Denis handles a lot better than his friend as he really loves Carmen and is much more casual about having sex with his boyhood pal. At a party, Nacho excuses himself and goes downstairs for a quickie with a stranger and from Marta's reaction as he emerges, we now know that his proclivities, while kept under wraps for decades, was not really news to her – just unexpressed as his political ambitions would suffer greatly, as would his distinguished family name. Admitting that he loves Denis, he tells him he wants to leave his wife and be with him. This is not what his friend has in mind and he says "no."
Time has passed, and as closing credits roll, in a distant background shot, Isaac appears to be a young toddler playing outdoors with adults seated at a nearby table. As the closing credits continue, Simon Smith and Arnau Bataller's excellent original music plays as Director of Photography Gina Ferrer Garcia's excellent camera work zooms in on our chef putting the final touches on a dish he is preparing. Elena Ruiz's editing pulls all the pieces together in this compelling story about the intersection of four lives and the ultimate symbiotic relationships that develop.
ISSAC
Distributor: Breaking Glass Pictures
Release Date: Current
Where: iTunes/Apple TV, Amazon, Google Play, Xbox,
Vudu, Vimeo, & through local cable & satellite providers, & on DVD.
Language: Spanish
Genre: Drama
Running Time: 84 Minutes
Rating: Unrated