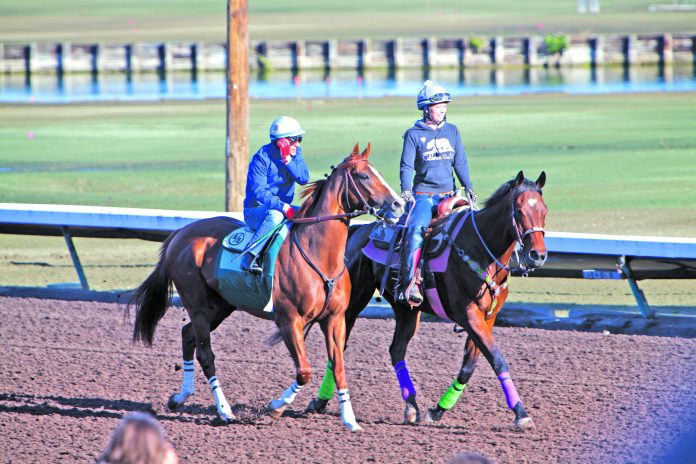 Officials open facilities to assist Santa Anita in time of need
By David N. Young
Los Alamitos Race Track in Cypress has agreed to host Thoroughbreds for training there for while Santa Anita's racetrack works through a host of inspections and other concerns following a rash of equine fatalities in recent months.
Los Al Race Track official Orlando Gutierrez said on Friday that approximately 50 Santa Anita Thoroughbreds were currently training at the Cypress track.
"We're doing everything we can do to assist," said Gutierrez. Santa Anita announced last week that there will be no racing or training at their track until further notice while track consultant Dennis Moore conducts a study on the surface.
Los Alamitos is currently running its night-time meeting for Quarter Horses and lower-level Thoroughbreds on weekends, Gutierrez confirmed.
The action come following the much-publicized death of 21 horses at Santa Anita, prompting the temporary closure while officials try to determine what caused the rash of equine fatalities.
Los Alamitos vice president Jack Liebau told popular racing publications that the local track can accommodate as many as 350 Thoroughbreds based at Santa Anita if they need a place to train.
And, if necessary, he said that the number could increase with the use of temporary stalls used for horse sales.
Some trainers based at Santa Anita also have stables at Los Alamitos and San Luis Rey Downs and are expected to send horses there to stay and train. Other trainers are sending horses to train at Los Alamitos and then shipping them back to Santa Anita, according to Los Alamitos track officials.
He said Los Alamitos conducts a Quarter Horse yearling sale each October and houses those prospects in temporary stalls, which could be used if the stable area reached capacity.
If it becomes a long-term issue, Liebau said Los Alamitos could make those stalls available.
Further, he said Los Alamitos is not planning to run Thoroughbreds during the day while Santa Anita is closed for racing, adding that Los Al has three daytime Thoroughbred meetings each year. The first of those this year, a three-week meeting, is scheduled to begin June 27, four days after the end of the Santa Anita spring-summer meeting.
According to Bloodhorse, another racing website, Los Alamitos Race Course owner Ed Allred has presented an offer to the California Horse Racing Board to run races at his Cypress, Calif., track should the suspension of racing at Santa Anita Park continue for an extended period of time.
One day after Santa Anita suspended racing and training to assess the safety of its main track, Allred announced that he has offered a "contingency plan" to the CHRB as well as the Thoroughbred Owners of California. Santa Anita's decision to suspend racing and training indefinitely was made hours after Lets Light the Way was fatally injured during training—the 21st equine fatality of its meet, which began Dec. 26.