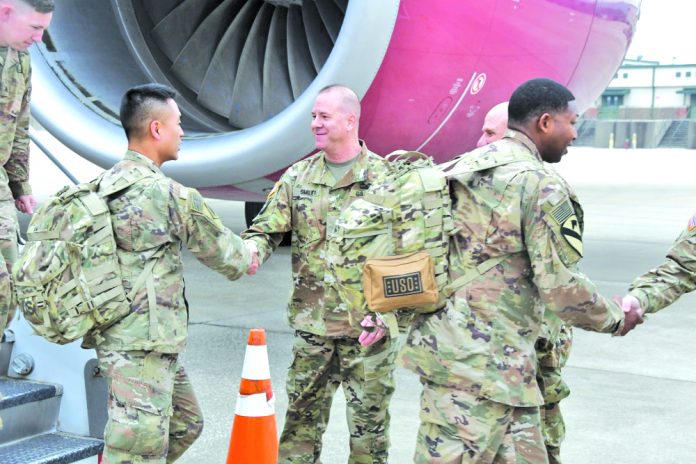 By Capt. Jason Sweeney, California National Guard
Nearly 100 Soldiers from the California National Guard's 40th Infantry Division, based at Joint Forces Training Base in Los Alamitos, returned to U.S. soil March 1 at Fort Hood, Texas, after successfully completing a train, advise and assist mission in Afghanistan.
The Soldiers will spend about a week on Fort Hood out-processing before returning home to family and friends in California.
Sgt. 1st Class Anthony Reading said it felt good to have completed the mission and be back in the United States. Reading was part of an eleven-man team from the 40th Infantry Division sent to fill critical operational positions in northern Afghanistan at Camp Marmal, located near Mazar-e-Sharif, Afghanistan, also known as Train, Advise, Assist Command-North commanded by the German Army. He said he worked long hours at a high op-tempo seven days a week while serving in an intelligence shop on the camp.
He said he is looking forward to reuniting with his family in the next few days. How will he celebrate once he returns home to California? "Tacos and margaritas," he said.
The 40th Infantry Division returns from a mission that was historic in several ways. It was the first combat deployment for the Division headquarters since the Korean War in 1952. In addition, the first rotation of 40th Infantry Division troops arrived in Kandahar Airfield, Afghanistan, in 2017 shortly after celebrating the 100th anniversary of the Division's founding.
"The 40th Infantry Division was part of a historic moment in Afghanistan," 40th Infantry Division's Brig. Gen. Jeffrey Smiley said. "The 40th ID's contributions helped to shape the first ceasefire in the 17 years of this campaign. The Taliban is now discussing a potential peace for the future of the Afghan people. This contributes to protecting the national security of the United States and the homelands of our Coalition Partners."
Smiley said that in the past, the National Guard traditionally served as a strategic reserve; however, this deployment demonstrates that the Guard has transformed into an operational force fully integrated with the active-duty Army. "We've made a significant leap from a strategic reserve all the way now to divisional-level operations directly contributing at any time and any place to meet the nation's security requirements yet remain in a reserve status."
The Afghanistan deployment consisted of two back-to-back nine-month rotations, the first led by 40th Infantry Division Brig. Gen. John Lathrop, who took command of Train, Advise and Assist Command-South (TAAC-South) in October 2017. The second rotation, led by Smiley, arrived in Afghanistan in June 2018.
For both rotations, the 40th Infantry Division was the command element for TAAC-South, based at Kandahar Airfield and tasked with a primary mission to train, advise, assist and enable the Afghan National Army and Afghan National Police; jointly known as the Afghan National Defense Security Forces (ANDSF).
During the deployment, TAAC-South was responsible for over 10,000 Coalition Forces and controlled kinetic and non-kinetic operations in four Afghan provinces: Uruzgan, Daykundi, Zabul and Kandahar where the majority of the Afghans are Pashtun, home of the Taliban.
Smiley said he was proud of the work his Soldiers did with their coalition partners and with the 205th Afghan National Army Corps based in southern Afghanistan. "The Afghan Security Forces made many improvements, increasing their capacity and capability to execute offensive operations successfully," he said.
"The 40th Infantry Division were good and brave partners to the 205th Hero Corps," said Lt. Gen. Eman Nazar, 205th Afghan National Army Corps commander. "While they were with us, we did many operations together we wouldn't have been able to do without their support. We will forever be partners and friends."
The 40th Infantry Division's Col. Kris Kough led a team of advisors and served as the senior advisor to Lt. Gen. Nazar on the second rotation. "Our Military Advisor Team advised the 205th Corps staff," Kough said. "We worked with our Afghan partners, giving them recommendations on how to perform their warfighting functions more efficiently, not necessarily the American way, but in a way that works for them, giving them tactics, techniques and procedures to help them improve their processes. For my team, it was important that we worked on sustainable Afghan solutions for them."
Kough said his team helped the 205th Corps improve casualty evacuation, logistics and combat training.
"It's good to be back on American soil, but bittersweet," Kough said. "For most of us, we enjoyed interacting on a daily basis with our Afghan partners. We developed relationships and friendships. It's kind of hard to walk away from that, but it's time to come home and time for a new team to take over."
The 40th Infantry Division's Col. Daniel Markert served as the TAAC-South Director of Operations during the second rotation. "In the current mission set in Afghanistan, what you want to be able to do is put advisors at the point of need," Markert said. "We put together Expeditionary Advisory Packages (EAPs), which took some resources—it took planning, rotary-wing lift, theater response forces, security forces—general support assets. We'd set up with mortars, artillery and be out on the EAP for roughly five to 10 days. We got real good effects by going to more austere locations, a little higher risk, but much more effective in actually getting the Afghans better. And by better, I mean they're able to better integrate their indirect fires and armed helicopters. The 205th Corps, the Afghan National Army and the Afghan National Police are better now than when we got there."
Master Sgt. James Fox is one of the Division's engineers and served as a logistical support advisor during the second rotation. Over the deployment, he worked with the Afghan National Army and Afghan National Police to replace destroyed vehicles.
"The Afghans are a great people," he said. "Their world and their culture are very different from ours. By going in there and making an effort to understand them, we were able help them move forward and improve."
Fox said they were able to bring in 150 new vehicles that increased the effectiveness of Afghan National Security Forces.
During the deployment, five Soldiers from the 40th were awarded Combat Action Badges. Smiley received a Purple Heart when he was wounded in an insider threat attack on Oct. 18.
Smiley was taking part in a Key Leader Engagement at the Kandahar governor's compound with U.S. and NATO Forces Commander in Afghanistan Gen. Austin "Scott" Miller and several officials. While Miller and Smiley were walking in an entourage, a gunman open-fired with an AK-47, killing Kandahar's top police general, Abdul Raziq, and Kandahar's intelligence defense chief, Abdul Momin, and wounding several others. Smiley was shot in the arm and through the leg.
Smiley said the incident was over in seconds. "Our force protection measures were in place and worked and the attacker was immediately eliminated."
"I have a unique perspective as a senior leader to have been wounded and treated by our tactical medical system—from the combat lifesaver on scene, to the MEDEVAC crew picking me up, to the MEDEVAC taking me to the doctors in the surgical ward and then moving me to Germany and then finally to Walter Reed National Military Medical Center in Bethesda, Maryland. I have an immense appreciation for the caliber and the quality of that medical care. I saw firsthand not just what they did for me, but what they do for everyone."
Smiley said the incident did not distract his Soldiers from their mission. "The 40th Infantry Division remained focused on our overall objectives. We continued military operations in support of creating conditions for an Afghan political settlement, which will protect our vital national interests."
Kough said the incident was shocking to the TAAC-South team, but said he was proud how they were able to stay on task. "Our Afghan partners stepped up to the plate, TAAC-South stepped up to the plate, and we were able to maintain security and drive on."
Kough and Smiley both said the extensive train-up period prior to deploying effectively prepared the team to continue moving forward with their mission despite such an incident. Training the year prior included multiple Warfighter exercises over several weeks in Germany, France and Poland.
Smiley is still recovering from his wounds but is on his feet and back on duty and was at Fort Hood to welcome his Soldiers home as they deboarded the airplane.
"A year is a long time to be gone," Smiley said. "We are excited for the homecoming, return to civilian life and thankful for a job well done."