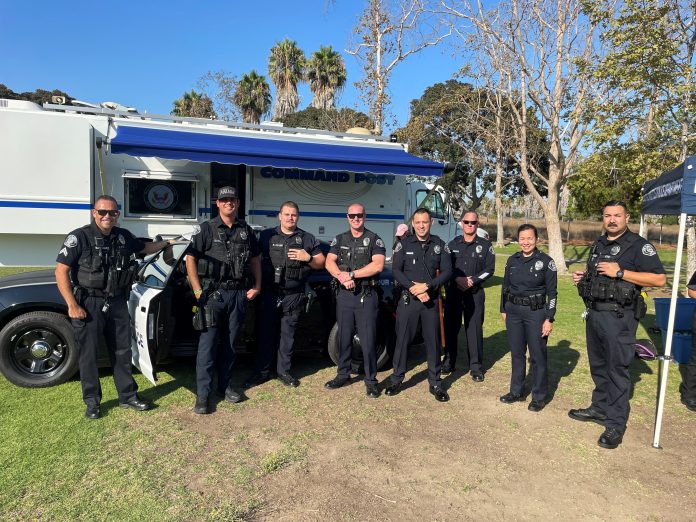 Little Cottonwood Park was buzzing with excitement as the Los Alamitos community gathered on Aug. 2, for the long-awaited revival of National Night Out. After a two-year hiatus due to the ongoing Covid-19 pandemic, the Los Alamitos Police Department was able to host 250 to 300 community members for a night of fun.
Los Alamitos Chief of Police Michael Claborn hosted his first National Night Out event since taking office on January 24, 2022. "One of my top priorities as Chief of the Los Alamitos Police Department is to build a strong, trusting relationship with the community we serve," said Chief Claborn.
"National Night Out is important to the success of the Los Alamitos Police Department because it provides an opportunity to connect with our community in a positive and mutually beneficial environment."
Holding true to his word, the Los Alamitos Police Department debuted a new resource allowing them to combat crime and engage with the community all in one fell swoop. The Department's new Bicycle Detail can be strategically deployed anywhere in the city to address a rise in crime. However, the same resource can be utilized at a community engagement event, enabling officers to interact with the public on a much more personable level.
National Night Out culminates annually on the first Tuesday in August and celebrates police-community partnerships and neighborhood camaraderie. Each August, police departments from across the United States work to build stronger relationships with their residents while fostering an environment of safety in an effort to bring back a true sense of community.
The mission of National Night Out furthers Chief Claborn's vision of using Community Oriented Policing principles to enhance public trust and create an inclusive culture where input is welcomed internally and externally.
This year's National Night Out was also the first for Los Alamitos City Manager, Chet Simmons. Although appointed in January 2020, this was Simmons' first opportunity to be a part of National Night Out. He said, "The City Council and I've been looking forward to National Night Out for a long time now and it has by far exceeded my expectations." Members of the Los Alamitos City Council and Mayor Shelley Hasselbrink were also in attendance, showing they had a vested interest in the success of the event.
As City Manager, Simmons is responsible for implementing and enforcing City Council policies and legislative initiatives, appointing department heads and directors, and managing all other City affairs within the framework of the adopted budget. Simmons is also responsible for representing the City's interests on a local, state, and federal level.
Community partners and agencies such as Orange County Fire Authority and the Orange County Sheriff's Department filled Little Cottonwood Park with booths, displays, and service vehicles from 5:00 pm – 8:00 pm. Live music, fresh kettle corn, a bounce house for the kids, and great conversations were the perfect recipe for a fun night for all.
Chief Claborn said he is excited to begin planning next year's National Night Out with promises of it being bigger and better than the last.