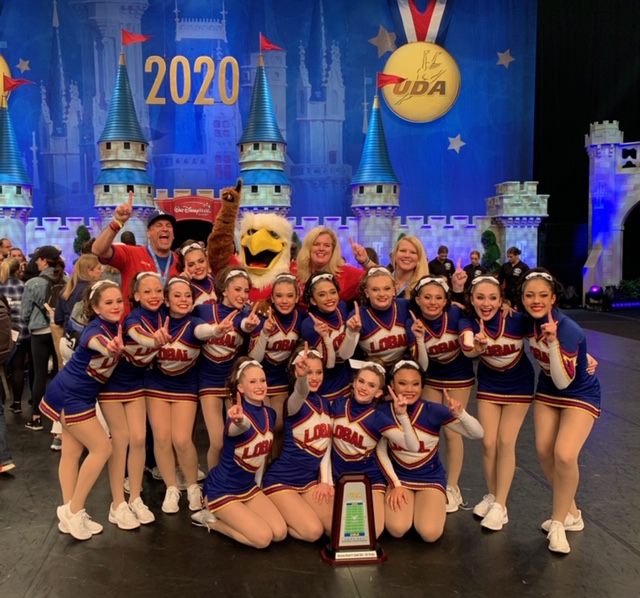 The Universal Dance Association (UDA) National High School Dance Competition just concluded in Orlando, Florida at the ESPN Wide World of Sports Complex. The event is held every year and hosts over 60 high school dance teams that earn their way to the event by winning regional competitions. It is the premier event for any high school dance team.
Los Alamitos Varsity Song team participated in four different categories (Game Day, Jazz, Pom and Worlds). On day one of the event during pre-lims, LAHS was the high scorer in three of the categories which sent them straight to the finals.
It was a tremendous advantage to get a bye for the next round of semi's on Saturday. Worlds is only held on Sunday, so there was no preliminary round.
On Saturday during the competition, LAHS Song team won the National title for Game Day. This is a relatively new category that comprises of three short game day dances and a video of the team participating in sideline routines at games and community involvement. LAHS repeated a National Champs in this category.On Sunday, LAHS Song put together an awesome performance and won the National Title in one of the most difficult categories, Jazz. This is one of the premier categories held during the entire competition. LAHS won the title back in 2017. LAHS Song team also repeated as the World Title champs as well. This category is smaller, but represents countries from around the World (Mexico, Columbia, Canada, Ukraine, Mongolia and the USA). The team pulled off a fifth place finish in the Pom category. The category is stacked with local talent like Rancho Santa Margarita, Marter Dei, Poway and Rosary Academy. The winner came from St. Ursula Academy in Toledo, Ohio.
The fourteen girls of LAHS Song (3 of which are seniors) all attend LAHS and are taught by Jennifer Ramirez. They fly home tonight wearing their prestigious "white jackets" that are only awarded to National Champs. Their winning videos can be seen on YouTube, UDA website and will air nationally on ESPN in a few weeks. They are expected to be honored at a LAUSD Board meeting in the coming weeks.