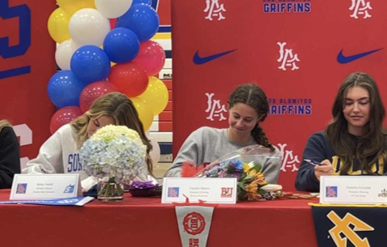 By Sofia Youngs
On April 19, the Los Alamitos High School students observed Sports Signing Day during lunch. Each student signed a National Letter of Intent to participate in NCAA Division I or II sports.
"A total of 26 of our students have signed their NLI just recently and around 50 signed throughout the entire year," said Eddie Courtemarche, the athletics vice-principal.
Over 20 senior families gathered in the gymnasium last Wednesday to commemorate students signing with over 25 universities, including Boston University, Cal Poly Humbolt, and schools throughout the United States. Various students received full or partial scholarships in volleyball, track-and-field, golf, etc. Sierra Erlandson, a senior, recently committed to Cal Poly Humbolt to run as a female triathlete.
"It felt right to me. The coach was very welcoming and as someone who has been a part of Junior Lifeguards and a current lifeguard, I knew it was a step in the right direction," Erlandson said. Erlandosn has been active since a very young age. Her father, a firefighter, enrolled her in sports when she was a young child. By nine, Erlandson participated in the Seal Beach Junior Lifeguard Program until she was 16 and soon became a lifeguard at Huntington Beach. This summer, Erlandson will be protecting the sands of Seal Beach as a tower lifeguard.
Los Alamitos High School strongly encourages all students to participate in athletics, with the majority of students partaking in one sport for at least two years; students who do not intend to participate in sports are required to participate in P.E. for at least two years. As a result, more than half of the student population participates in athletics, either via the school or a club program.
Cecilia Mason, better known as Cece Mason, recently committed to Boston University to participate in the Division 1 crew program on campus. She has been on the Long Beach Crew Team for over three years.
"I choose Boston for the opportunities that come with the city, the academic community, classes, and the ability to explore a new city row," Mason said.
Both a rigorous student and athlete, Mason knows the hardships of balancing a stressful academic schedule.
"Los al has prepared me for the tiredness of the classes and having to balance homework and A.P. classes with my rowing schedule," Mason said.
Signing Day is an opportunity to celebrate hardworking student-athletes in their endeavors as they begin the next chapter of their lives: college.