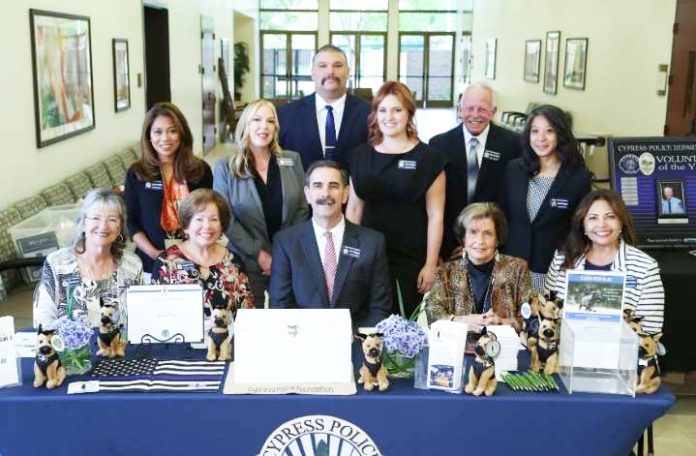 The Cypress Police Foundation will be celebrating its 11th annual Appreciation Luncheon next week as its president told the Cypress City Council Monday that they will be donating newly designed badges to the entire police department with proceeds from this year's event.
"We would like to donate brand new badges for our entire police department, and it would total 121 badges for all of our uniformed personnel," said Foundation President Dan Pettinger on Monday.
"The overall design will remain the same," he said, "but the color scheme is going to change to match the patches, business cards, and vehicles we currently have."
He said the donation will cost the foundation approximately $11,000 but will make for "good branding for our city."
Pettinger said the new badge "will represent the rebranding of our badge and the future of our city, a future of relooking at law enforcement of working with our community and being community-minded."
He said the foundation felt like "this would be a wonderful project together," adding that the new badges will be awarded to officers at the upcoming Appreciation Luncheon on May 16.
Former Mayor and City Council member Mariellen Yarc said that, for the first time, all notices about the event went out electronically, so they are making sure everyone in the community knows about the event.
"The event is open to the community," said Yarc, and will again be held at the Cypress Community Center. She said the event is being catered by the Naples Rib company. She said the cost to attend is $75.
All of the funds raised by the luncheon the Foundation will donate "on behalf of the police," including paying for the badges, she said.
Since the Foundation came into existence more than a decade ago, Yarc said they have made other donations, including funding for the procurement of a K-9 police dog.
Cypress Mayor Anne Hertz-Mallari thanked the Foundation "for your generous support of our amazing law enforcement team."
Responding to a question from Mayor Pro-Tem Scott Minikus, Pettinger said officers will be able to keep their old badges for a "nominal fee" for the officer's badges to be encased in Lucite or a shadow box.
According to Selina Mullaney, a Cypress Police Foundation board member, the 11th Appreciation Luncheon begins at 11 a.m. on Tuesday, May 16 at the Cypress Community Center, 5700 Orange Ave.
She said the CPF will also present several awards, including the 2022 Officer of the Year, Volunteer of the Year, Employee of the Year and Citizen of the Year.
For more information, contact cypresspolicefoundation@gmail.com. For tickets, visit cypressPF.org.