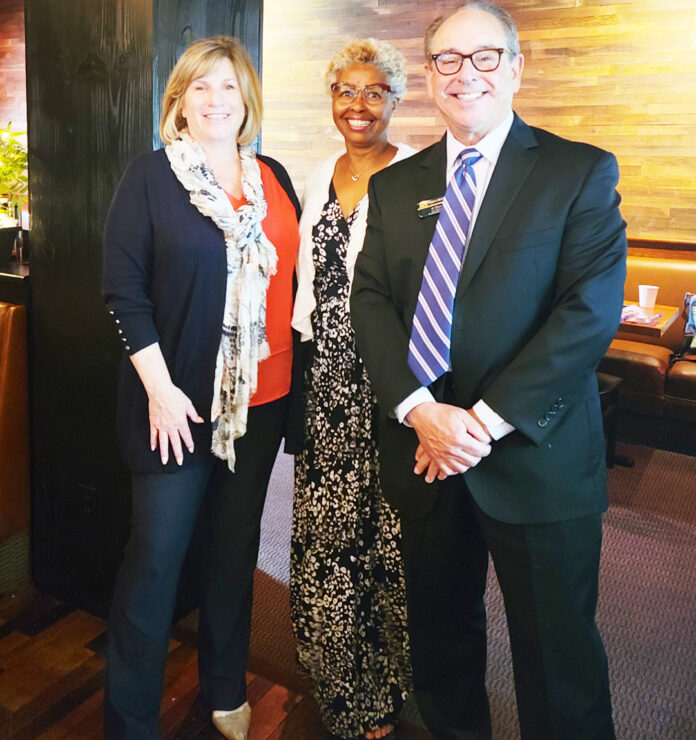 It wasn't a debate, but a back-and-forth sharing of information, between "Financial Partners Credit Union" Branch Manager Debbie Flannagan and "Farmers & Merchants Bank" Vice President Relationship Manager Al Stone during the Los Alamitos Chamber of Commerce Breakfast Networking meeting Friday, May 6, at Maderas Steak House, in Los Alamitos.
It was like a comedy routine with a serious message that made people both smile and laugh as each of the presenters shared worth-while information about banking and credit unions.
For instance, with the clever way Stone said, "We at our bank 'can' do this, or offer that, but we 'can't' do this…" and Flannagan, without saying a word, gave facial expressions and pointing gestures, noting that her credit union 'could' offer that particular service.
"Banks can't help everyone, but they can help some and we can help people understand banking and you don't need to be 'sorry' for asking questions," said Stone. "We serve the community with our finances; if people's finances aren't healthy, then probably their life isn't either – and refinancing is a cleansing process – a solution."
Stone said that people ask, "'How do I get capital?' And I tell them that there are ways out of debt; it's teaching people financial control and helping people build a better life; it's hard work and thrift – we like to help and support the community – we can help you on a business and personal level and our competitiveness is service. If I can be of assistance, I'm here to help."
Flannagan said, "At Financial Partners Credit Union, we do more than offer competitive products and services, we serve our communities in many ways; offering educational support to our members and local schools, volunteering in the local communities that we serve and provide credit reviews to help members achieve their best financial position; having healthy finances contributes to the overall health of a person."
She pointed out that Financial Partners members can reach out anytime for personal one-on-one service, saying, "That's something that isn't so common today – we are 'a service difference.' Come on in and let us show you how we can help you."
"As a member-owned, not-for-profit cooperative, we keep borrowing rates low and savings-rates higher and we also believe in rewarding our members with, 'The more you do, the more you get Reward Program.' You can join! Let us help you save time, save money, and make money!"
Contact Los Alamitos Chamber at, info@losalchamber.org.